Hedge Fund Diners Get ECB's Market-Moving News Hours Early
Jeff Black and Anchalee Worrachate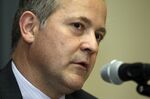 On Monday evening, Benoit Coeure told a room of bankers and hedge-fund managers in London that the European Central Bank will front load its asset-buying program before a summer lull.
The next day, the rest of the market found out, irking investors from Edinburgh to Frankfurt who weren't in the know as the euro dropped and bonds and stocks rallied. The ECB board member's dinner speech at the Berkeley Hotel came at the end of an invitation-only conference featuring senior officials from at least five central banks, and which was organized by research groups including one financed by hedge fund Brevan Howard Asset Management.
While such events allow the ECB and its peers to keep up a dialog with the investment community, they present a challenge in maintaining a level playing field. Though the remarks by the central bank's markets chief signaled a policy move that some market participants had already predicted, the reaction on Tuesday suggests plenty others remained in the dark on a key operational aspect of the ECB's stimulus program.
"If some elements of the market were informed at a different time to others, then it seems injudicious," said Frances Hudson, a global thematic strategist at Standard Life Investments in Edinburgh, which oversees $383 billion. "It would be better to synchronize announcements so that everyone in the market receives that piece of information at the same time."
Holiday Preparations
The ECB said in a statement that the intention had been to release the remarks on Monday as Coeure spoke, and that a procedural error prevented that happening until Tuesday morning. It also said the speech was covered by Chatham House Rules, meaning it wouldn't normally be published.
Coeure spoke after a day of discussions open to about 125 participants, including representatives of central banks, commercial banks and asset managers, and academics. Bloomberg First Word Strategist Mark Cudmore attended the event.
Coeure's comments referred to the ECB's program to buy 60 billion euros ($67 billion) a month of bonds under its plan to revive euro-area inflation.
Policy makers are "aware of seasonal patterns in fixed-income market activity with the traditional holiday period from mid-July to August characterized by notably lower market liquidity," he said at the dinner. "If need be, the front loading may be complemented by some back loading in September when market liquidity is expected to improve again. The slightly higher purchase volume that market analysts may observe in the coming weeks is therefore unrelated to the recent episode of market volatility."
Market Selloff
The comments followed a bond-market selloff that pushed the German yield curve to the steepest in five months and wiped more than $400 billion off the value of global fixed-income markets.
On Tuesday, before the remarks were released, German 10-year government bonds advanced along with those of Italy and Spain. The German yield fell two basis points and the euro was already weaker versus the dollar.
The ECB released the speech publicly at 9 a.m. Frankfurt time. The news drove the euro down more than a cent and extended rallies in European government bonds, stocks, and U.S. Treasuries. The rally in German bonds sent yields as much as 10 basis points lower.
Maintaining Caution
"There is definitely a problem in communication here," said Christoph Kind, head of asset allocation at Frankfurt Trust, which manages about $20 billion. "The market reaction is very strong, so you might say it's not the best way to communicate this kind of information."
Internal ECB guidelines stress that staff members shall "maintain caution in their relations with interest groups and the media." By comparison, U.S. Federal Reserve communication guidelines are more explicit.
Officials should "refrain from describing their personal views about monetary policy in any meeting or conversation with any individual, firm, or organization who could profit financially from acquiring that information unless those views have already been expressed in their public communications," a policy document on the Fed's website says.
The U.S. Justice Department is currently investigating a leak of confidential monetary-policy information in 2012.
High Profile
The conference -- "Removing the Zero Lower Bound on Interest Rates" -- was arranged by research groups including the Brevan Howard Centre for Financial Analysis, an institute at the Imperial College London Business School that is funded by a gift of 20.1 million pounds ($31 million) from Alan Howard, the chief investment officer of Brevan Howard. He spoke at the conference.
A spokesman for the center didn't respond to requests for comment. A spokesman for Brevan Howard Asset Management declined to immediately comment.
Apart from Brevan Howard, other organisations represented among attendees included Elm Partners Management and Pharo Management LLC, according to a list provided by the organizers.
Scheduled speakers included Thomas Moser, a board member of the Swiss National Bank; Niels Lynggard Hansen, head of the economics department at the Danish central bank; Ulrich Bindseil, the ECB's director general of market operations; and Jamie McAndrews, the New York Federal Reserve's director of research.
High-profile though that list is, investors currently only have Coeure's comments to weigh.
"This is a market practice that ought to be totally forbidden, and even more so when it comes from an organization such as the ECB," said Jesus Dominguez, who helps manage about 6 billion euros at MoraBanc Group SA in Andorra la Vella, Andorra. "Transparency is one of the pillars of the market."
Before it's here, it's on the Bloomberg Terminal.
LEARN MORE