Supreme Court Won't Block Probe of Scott Walker's Recall Campaign
Greg Stohr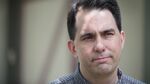 The U.S. Supreme Court refused to end a state investigation into Wisconsin Governor Scott Walker's 2012 recall campaign, rejecting an appeal from a conservative group that says its constitutional rights are being violated.
The rebuff leaves the future of the investigation in the hands of the Wisconsin Supreme Court, which is considering a separate bid to stop the probe. The criminal investigation, on hold during the court fight, might complicate Walker's potential campaign for the Republican presidential nomination.
A court-appointed special prosecutor, Francis Schmitz, is tasked with investigating whether Walker and his operatives violated state campaign-finance laws by coordinating their efforts with Club for Growth, an advocacy group.
The Wisconsin chapter of Club for Growth and its director, Eric O'Keefe, are fighting subpoenas they received from Schmitz seeking financial records. The group and O'Keefe sued in federal court to block the probe, and a federal trial judge said the First Amendment bars the state from trying to learn whether the organization coordinated with the Walker campaign.
A U.S. appeals court overturned that ruling, saying federal judges shouldn't entangle themselves in state criminal proceedings.
Walker survived the recall vote, which was sparked by his efforts to curb the power of public employee unions, and then won re-election last year. Walker and his campaign aren't directly involved in the Club for Growth case.
The case is O'Keefe v. Chisholm, 14-872.