President Obama Joins Twitter, for Real This Time
The @POTUS tweets will come exclusively from him, the White House says.
By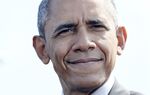 After six years in the White House, President Barack Obama has his own Twitter account. 
"Hello, Twitter! It's Barack. Really! Six years in, they're finally giving me my own account," the president said using the verified handle @POTUS on Monday, anticipating skepticism about his new social-media presence.
The move is "a new way for President Obama to engage directly with the American people, with tweets coming exclusively from him," the White House said in a blog post. "President Obama is committed to making his Administration the most open and participatory in history, and @POTUS will give Americans a new venue to engage on the issues that matter most to them."
The president began by following 65 accounts, including those of his wife, Michelle Obama; Vice President Joe Biden and his wife, Jill Biden; several cabinet members; and former Presidents Bill Clinton and George H.W. Bush. He wasn't following Hillary Clinton, who is his former secretary of state, or any other Democratic hopefuls.
The White House account and some of Obama's coworkers also spread the news:
Obama's tweet was sent at 11:38 a.m. EDT. In less than an hour, it had gotten more than 43,000 retweets and 44,000 favorites. By 12:42, Obama had almost 300,000 followers.
His Twitter presence until now has been at @BarackObama, an account run by Organizing for Action, the grassroots group tied to his presidential campaigns. Control of Obama's social media accounts switched from his presidential campaign to Organizing for Action in early 2013, according to the Atlantic.
—Derek Wallbank contributed to this story. 
CORRECTION: An earlier version of this story should have said Obama's first tweet was sent at 11:38 a.m. EDT.