politics
Chris Christie Proposes Strengthening U.S. Government Surveillance
Terrence Dopp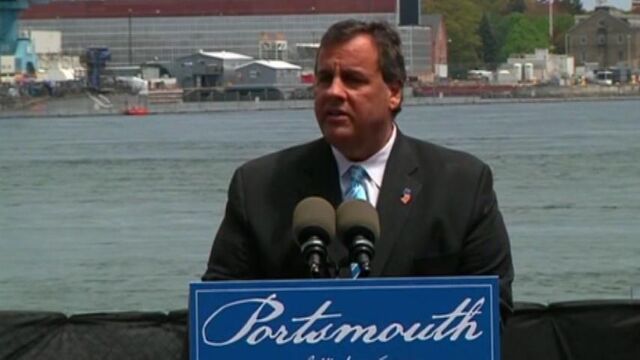 Chris Christie proposed stronger government surveillance and a larger U.S. military as he laid out his foreign-policy platform during a New Hampshire speech.
Christie, the second-term Republican governor of New Jersey who is considering a run for president, said Army and Marine contingents shouldn't be reduced below levels that existed before the Sept. 11, 2001, terrorist attacks. The U.S. needs more Navy ships and a larger Air Force, he said.
The governor, a former U.S. attorney, also admonished "civil liberties extremists" who have criticized intelligence-collection efforts. He lashed out at Edward Snowden, the government contractor who leaked thousands of documents to journalists in 2013, including those showing that the National Security Agency had been secretly collecting the phone records of American citizens. Snowden is now in Russia.
"We shouldn't listen to people like Edward Snowden, a criminal who hurt our country and now enjoys the hospitality of President Putin -- while sending us messages about the dangers of authoritarian government," Christie, 52, said in a speech at Prescott Park in Portsmouth near a naval shipyard.
Third Speech
Christie, who turned down calls to run for president in 2012 and has struggled to reignite that enthusiasm, has said he will announce his decision this month or next. The speech is the third that he's given over the past month to outline policy positions. All have taken place in New Hampshire, the first state to hold a presidential nominating contest.
The speeches have given the governor a chance to address his perceived challenges should he run: a lack of national and foreign policy experience. He's scheduled to hold a town-hall meeting later in Hudson as he tries to build visibility in a state seen as crucial to a White House win.
During the hourlong address to about 100 people, Christie repeatedly returned to America's role in winning World War II 70 years ago, saying it in part laid the groundwork for the nation's prominence. Failing to reassert such a leading role will leave the U.S. behind the rest of the world, he said.
Patriot Act
Christie pointed to his tenure as U.S. attorney, saying he successfully prosecuted the nation's first terrorism case after the Sept. 11 attacks and learned first-hand the value of the Patriot Act, the law that enabled the government-surveillance program. That law contains a number of oversight provisions, and fears of misuse aren't grounded in practical experience, he said.
"Washington is debating the wrong question entirely -- which intelligence capabilities should we get rid of?" Christie said, accusing President Barack Obama of scaling back surveillance.
The governor, who called Obama "the worst economic president since Jimmy Carter" during a May 12 speech, said Monday that allies have lost confidence in the U.S. Though Obama announced a campaign in August to destroy the terrorist group that calls itself Islamic State, "they seem to be getting stronger every day," Christie said.
"When allies lose confidence in us, they take matters into their own hands," Christie said.
He proposed building a ground force of 500,000 Army soldiers and 185,000 Marines.
As of April 1, the U.S. had 495,720 active duty Army personnel and 184,688 Marines. His plans also calls for an Air Force of 6,000 planes and a 350-ship Navy from the current 272.
(Adds New Hampshire travels starting in sixth paragraph.)
Before it's here, it's on the Bloomberg Terminal.
LEARN MORE