Scott Walker Doubles Down on Ronald Reagan Firing Air Traffic Controllers
The Wisconsin governor continues to make the case that he has enough foreign policy experience to be president.
By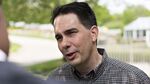 For a Republican thinking about running for president, it's almost always good to talk about Ronald Reagan, the man many of the party faithful view as the best modern commander-in-chief.
Wisconsin Governor Scott Walker did just that Sunday on CBS's Face the Nation when asked about what some have labeled as a gaffe he made in February. That's when he told a Club for Growth gathering in Florida that the most significant foreign policy decision of his lifetime was Reagan's decision to bust a 1981 strike of air traffic controllers, firing some 11,000 of them.
"Don't you think there may have been a few things—while I agree that that was a significant development—a few things maybe a little more important, like Nixon's opening to China, for example?" moderator Bob Schieffer asked. "The decision to go after Osama bin Laden? Do you really think that was the most significant foreign policy statement of your lifetime?"
Walker, who went on to have his own major confrontations with organized labor, explained that he'd turned 13 just two days before Reagan's 1980 election and the controller's strike was a memorable moment for him.
"For me, looking at that kind of leadership, he set the tone not just domestically with that action, he sent the message around the world," he said, speaking from Iowa.
Reagan's dramatic actions on his own soil showed allies and adversaries alike that he was someone not to be messed with, Walker said.
Asked about former Florida Governor Jeb Bush's problems this past week outlining his views on the actions taken in Iraq by his brother, former President George W. Bush, Walker declined to criticize either Bush.
"I think any president, regardless of party, probably would've made a similar decision to what President Bush did at the time, with the information he had available," he said. "Remember, even Secretary of State, then Senator Clinton, voted for a measure supporting the Iraq War."
Walker blamed bad intelligence for some of the decisions that were made. "Knowing what we know now, I think it's safe for many of us, myself included, to say, we probably wouldn't have taken that tact," he said of invading Iraq.
As he often does, Walker defended his own foreign policy credentials by citing various trade missions he's taken during his tenure as Wisconsin's governor, as well as his first trip to Israel last week.
"It's really ultimately about leadership," he said. "To me, in my lifetime, one of the best presidents when it comes to foreign policy was a governor from California. In my lifetime, one of the worst presidents when it comes to foreign policy was a freshman senator from Illinois."