Hillary Clinton to Pitch Herself as Candidate for Small Businesses
The presidential candidate will turn her attention away from Wall Street on the campaign trail.
By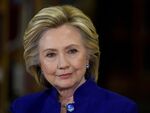 Hillary Clinton plans to make pro-small business policies a focus of her presidential bid and will spend next week in Iowa and New Hampshire to begin sharing those ideas, a senior campaign official said Friday.
Clinton sees small businesses as being at a critical post-recession moment in which, with the right policies, they can thrive, the official said, and will outline her suggestions for ways to encourage risk-taking on Main Street over what the official described as irresponsible speculation on Wall Street. 
Among her ideas: finding ways to cut red tape for small businesses and entrepreneurs; expanding access to capital; simplifying taxes and offering relief for business owners; and boosting their ability to export.
On Tuesday, she'll discuss her proposals at a roundtable with small business owners, in Cedar Falls, after spending Monday at smaller events in North Central Iowa. On Friday, she'll meet with business owners in New Hampshire. In between, on Wednesday, she'll make a pit-stop in Chicago for three $2,700 per person fundraisers.
Next week will mark the first time since she declared herself a candidate that Clinton will devote to visiting small businesses and meeting with entrepreneurs, but she's already discussed some of her ideas of those ideas at least briefly, most notably during a roundtable last month at Capital City Fruit, a fruit distributor just outside Des Moines. There, she heard from entrepreneurs who struggled to get loans for their businesses and had concerns about the rising cost of health care. She mentioned wanting to cut red tape, though she didn't say how she would do so, nor did the official who offered a preview of next week's plans.
She also foreshadowed her plans to emphasize policies for small businesses when she interjected last week at a Las Vegas roundtable on immigration: "I want to be the president for small business."
Clinton hasn't yet discussed her ideas for helping small businesses export their products. And on trade, she's laid out only broad principles. Spokesman Nick Merrill said in a last month that her standards for supporting the Trans-Pacific Partnership, the trade deal under consideration by Congress, included determining whether it would "open new opportunities for our small businesses to export overseas" while protecting American workers and companies. Though she supported the trade deal while serving as secretary of state during President Barack Obama's first term, Clinton has yet to take a definitive stance on TPP, in what's widely seen as effort to avoid undermining her former boss or upsetting liberals.
Clinton's attention to small business, which the official said will be a constant throughout the campaign, is also a way for Clinton to remind voters of her humble beginnings, long before she was paid hundreds of thousands of dollars to deliver a single speech or started having around-the-clock Secret Service protection. Her father, Hugh Rodham, owned a small drapery business in their hometown of Park Ridge, Ill., just outside Chicago, that Clinton has often mentioned in public appearances since launching her campaign last month.
To gear up for her trip, Clinton spent Thursday visiting small businesses near her campaign headquarters in Brooklyn Heights—Area Kids, a children's toy and clothing store; Brooklyn Women's Exchange, nonprofit craft shop; and Monty Q's, a pizza place. 
As she toured Montague Street in the well-to-do neighborhood, a camera crew filmed her visiting those businesses.
CORRECTION: Due to incorrect information from the campaign, the story originally misstated the location of Tuesday's roundtable. It is Cedar Falls, not Cedar Rapids.