Rand Paul Springs into Action Against George Stephanopoulos, Patriot Act
An aggressive turn gets results, again and again.
By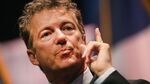 On Thursday morning, talking to the New York Times's Jeremy Peters, Kentucky Senator Rand Paul became the first presidential candidate to challenge George Stephanopoulos's donation to the Clinton Foundation. The ABC News host, who had not previously disclosed a gift of at least $50,000, needed to be kept out of the moderator's chair when the Republicans debated this fall. "I just think it's really, really hard," said Paul, "because he's been there, so close to them, that there would be a conflict of interest if he tried to be a moderator of any sort."
Hours later, donors on Paul's e-mail list got a message asking them to shake some change loose and help the senator block renewal of the PATRIOT Act. As he'd been saying in interviews, he was ready to filibuster if he needed to. "I have until May 19th to mobilize the grassroots for this fight and I'm counting your immediate support," he said. "I need to know right now if I can count on you to stand with me as I filibuster the so-called PATRIOT Act."
After a few weeks of muted or miscued reactions to big events, Paul was jumping right to the front of the news cycle. The senator who joked about wanting his train to pass by Baltimore was now reacting quickly and driving Republican debate—in these examples, and in his quick condemnation of Jeb Bush's latest musings about the Iraq War.
In a Monday interview with Bloomberg News, Paul rejected the idea that he'd been slow to react to other stories.
"People must have a lot time on their hands," said Paul. "I've been here every day, trying to do something on these issues. I think people read too much into activities or inactivities. I woke up at 5:30 a.m. to wake up, get on a plane, go to New Hampshire and back. So it's not really by design sometimes. I think people read too much into it—Where is he on the PATRIOT Act? Why isn't he saying this or that? Well, because I was in San Francisco and Arizona. It's just hard to do everything everybody wants when they want it."
That did not mean the Baltimore line was well timed, or well said. "Sometimes, you say things that people misinterpret," said Paul. "I've been working for two years on criminal justice reform. I continue to, and have probably 10 bills on this. But I say one offhand remark, and it's like 'Oh, he's given up on criminal justice reform.' Really? Come on, guys. I'm human. I'll continue to fight all of these battles, but I can't please everybody all the time."
This week, he was getting awfully close. No other Republican candidate for president had said what the base was clamoring for—that Stephanopoulous could no longer host a debate. Spokesmen for Texas Senator Ted Cruz and former Arkansas Governor Mike Huckabee both declined comment. Yet by 2:30 p.m., less than three hours after Paul condemned him, the ABC News host told Politico's Dylan Byers that he would avoid the debate stage.
"I won't moderate that debate," Stephanopoulos said. "I think I've shown that I can moderate debates fairly. That said, I know there have been questions made about moderating debates this year."