Rand Paul Springs into Action Against George Stephanopoulos, Patriot Act
An aggressive turn gets results, again and again.
By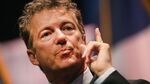 On Thursday morning, talking to the New York Times's Jeremy Peters, Kentucky Senator Rand Paul became the first presidential candidate to challenge George Stephanopoulos's donation to the Clinton Foundation. The ABC News host, who had not previously disclosed a gift of at least $50,000, needed to be kept out of the moderator's chair when the Republicans debated this fall. "I just think it's really, really hard," said Paul, "because he's been there, so close to them, that there would be a conflict of interest if he tried to be a moderator of any sort."