Small to Big: Moleskine Notebooks' Digital Dimension
Moleskine takes pen and paper into the Digital Age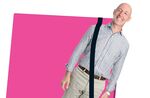 Moleskine's hardbound, black journals have become iconic since they were introduced in 1995. Yet the Italian company aspires to be something more than a maker of notebooks, says Chief Executive Officer Arrigo Berni. "We define the business," he says, "as offering people a platform to express themselves and their creativity." To that end, Moleskine joined forces with Evernote to introduce its first smart journal in 2012, which allows users to capture their notes and upload them to computers, tablets, and smartphones. A second-generation version, developed in conjunction with Adobe Systems and Livescribe, made its debut last year.
Arrigo Berni: People were online talking about their passions and their obsessions with Moleskine when I joined in 2006—that was before social media and social networks, and way before we had any meaningful institutional presence online.

My background is in marketing—at Procter & Gamble and in luxury goods with Bulgari. From a marketing point of view, it's of incredible value to establish a strong emotional bond with users—that is an asset you can build upon a lot.
From the beginning, and certainly since 2006, Moleskine has stuck to the business of creating. We've respected the DNA as we've evolved into a diversified business covering different product categories.
The real life of our users is not one where physical and digital are viewed as antagonistic. We live in a physical world that is increasingly connected to a digital dimension. We decided to create something around this idea.
I was impressed at the offices of Dropbox while there for a meeting. The company has a vending machine with all kinds of tech accessories, and included in the machine are Moleskine notebooks. When we work with Silicon Valley companies, that's where we find some of our most passionate fans. People come to the meetings with their notebook, with pen and paper.
—As told to Dimitra Kessenides
(Corrects description to reflect that Moleskine's journals are not covered in leather.)
Before it's here, it's on the Bloomberg Terminal.
LEARN MORE