politics
George Stephanopoulos' Clinton Foundation Donations Cost Him Role in Republican Presidential Debate
The anchor donated $50,000 to the Clinton Foundation.
By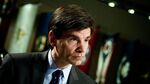 ABC News anchor George Stephanopoulos on Thursday said he would not moderate his network's Republican primary debate next year after revealing that he had made $50,000 in previously undisclosed donations to the Clinton Foundation.
Stephanopoulos' decision came after several prominent Republican lawmakers questioned his objectivity in the wake of the revelations, among them Kentucky Senator Rand Paul, who is running for his party's presidential nomination.
The contributions by Stephanopoulos, a veteran of President Bill Clinton's administration who subsequently launched a media career, were first reported in Politico's On Media blog. Stephanopoulos  apologized for not revealing the donations. 
"I made charitable donations to the Foundation in support of the work they're doing on global AIDS prevention and deforestation, causes I care about deeply," he said in the statement. "I thought that my contributions were a matter of public record. However, in hindsight, I should have taken the extra step of personally disclosing my donations to my employer and to the viewers on air during the recent news stories about the Foundation. I apologize."
Caragh Fisher, a spokeswoman for the ABC, confirmed the network anchor's decision to recuse himself from the Republican debate, scheduled to take place in New Hampshire early next year, in an e-mail. 
On Capitol Hill, the communications director for Senator Mike Lee, a Utah Republican, suggested he'd hold his boss off ABC News as a protest.
I'm not letting my boss go on @ABC until @GStephanopoulos recuses himself from all 2016 coverage.

— Conn Carroll (@conncarroll) May 14, 2015
Lee's office confirmed the legitimacy of the tweet to Bloomberg News. Another Republican senator, who is running for president, Kentucky's Rand Paul, told the New York Times that Stephanopoulos should not moderate any of the presidential debates.
The large donation by Stephanopoulos, who was the communications director for Bill Clinton's first presidential campaign and then was the White House communications director, was revealed a month after he interviewed the author of the book Clinton Cash, which investigated donations made to the Clinton Foundation while Democratic front-runner Hillary Clinton was working as secretary of state, on ABC's "This Week." 
Pushing back on Peter Schweizer's claims, Stephanopoulos said, "You take it pretty far." He continued:
We've done investigative work here at ABC News, found no proof of any kind of direct action. And an independent government ethics expert, Bill Allison, of the Sunline Foundation (ph), wrote this. He said, "There's no smoking gun, no evidence that she changed the policy based on donations to the foundation."
ABC News gave its own statement backing Stephanopoulos. "As George has said, he made charitable donations to the Foundation to support a cause he cares about deeply and believed his contributions were a matter of public record," the statement said. "He should have taken the extra step to notify us and our viewers during the recent news reports about the Foundation. He's admitted to an honest mistake and apologized for that omission. We stand behind him."
(Derek Wallbank contributed reporting.)
(New lede)
Before it's here, it's on the Bloomberg Terminal.
LEARN MORE