Boehner on Amtrak Funding: 'Such a Stupid Question'
He spoke as authorities continue investigating the Tuesday derailment that killed eight people near Philadelphia.
By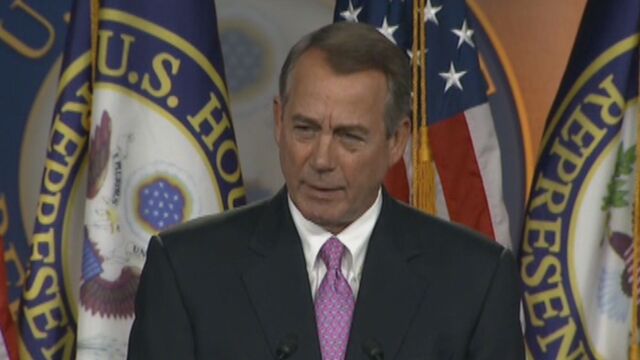 House Speaker John Boehner on Thursday dismissed a reporter's question about Amtrak funding as authorities continued investigating the Tuesday derailment that killed eight people near Philadelphia.
"Are you really going to ask such a stupid question?" Boehner, an Ohio Republican, said, cutting off the reporter mid-question during a briefing at the U.S. Capitol. "They started this yesterday, it's all about funding, it's all about funding."
"The train was going twice the speed limit," Boehner said. It is "hard for me to imagine that people take the bait on some of the nonsense that gets spewed around here."
Republican and Democratic lawmakers clashed Wednesday over a vote to cut more than $200 million from the rail system's budget.
Representative Peter DeFazio, an Oregon Democrat who is the party's top member on the House Transportation and Infrastructure Committee, said Wednesday the efforts to cut Amtrak's capital grants were "very, very ironic."
"I would hope that our friends on the Appropriations committee are cognizant of the real world out there, of what happened last night, of what the needs of Amtrak are," DeFazio said during a Wednesday House Transportation and Infrastructure subcommittee hearing. Even without the cuts, it would take 25 to 30 years to get the passenger rail system "up to a state of good repair," he said.
The train that derailed was traveling 106 miles per hour just before the accident in a 50 mph area. The accident could have been prevented if the track had been equipped with automatic braking technology that's in place on most of the rail line between Washington and Boston, National Transportation Safety Board member Robert Sumwalt told reporters Wednesday.
Republicans on the House Appropriations Committee blocked a Democratic amendment to add $1.3 billion to Amtrak spending, as well as another change to increase by $825 million for the adoption of positive train control technology, which can slow or stop trains before an accident.
—With assistance from Jim Snyder and Angela Greiling Keane.