U.S. House Votes To Ban Abortions After 20 Weeks
Revisions win over Republican women who had objected to earlier bill.
By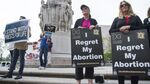 The U.S. House on Wednesday passed 242-184 a rewritten version of a bill to ban most abortions after 20 weeks of pregnancy -- the second Republican attempt at advancing the measure.
In January, Republican Speaker John Boehner pulled the bill from a planned vote amid opposition by House Republican women and centrists who said its exceptions for victims of rape and incest were too narrow.
That earlier version would have allowed an exception for rape victims only if they had reported their assult to police.
The new measure passed Wednesday would permit an abortion after 20 weeks if a woman had received medical care or counseling at least 48 hours before from a facility that doesn't provide abortions.
In cases of incest against a minor, the bill would require the notification of child protective services or law enforcement before an abortion.
Representative Renee Elmers, a North Carolina Republican who objected to the earlier version, supported the re-crafted bill Wednesday.
"As difficult as this process has been, we have arrived at a better bill," Ellmers said.
Opponents said the measure would extend the government's reach into doctors' offices.
"Being in the majority is not an excuse to try and insert extreme, divisive ideological preferences into law, yet that is exactly what this bill tries to do," said Representative Rosa DeLauro of Connecticut.