What Happens When Republicans Realize Obamacare Was Written for Them?
A South Carolina man didn't want Obamacare until he couldn't pay for his eye treatments.
By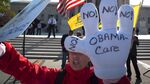 Luis Lang, a 49-year-old smoker and diabetic from South Carolina, is going to go blind unless he figures out how to pay for expensive eye treatment.