De Blasio on Capitol Hill Seeks Signers for 'Progressive Agenda'
Henry Goldman and Mark Niquette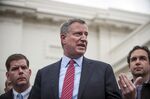 Standing outside the U.S. Capitol under a broiling sun, New York Mayor Bill de Blasio spent more than an hour calling on elected officials, activists and union leaders to sign his 13-point "Progressive Agenda" -- and give him a national profile in the process.
U.S. Senator Jeff Merkley of Oregon and American Federation of Teachers President Randi Weingarten were among a parade of speakers Tuesday backing his plan. They decried what they described as betrayals of American workers and families at the hands of the ever-more wealthy top 1 percent of earners.
"We knew it would take a bold set of solutions, that half steps wouldn't do," de Blasio told reporters. "We need to reward work again, not wealth."
The event capped the first leg of a four-day U.S. tour for de Blasio to focus attention on inequality before the 2016 presidential race. He has traveled to Nebraska, Iowa and Wisconsin in the past six weeks and intends to spend two days in Washington before heading to California on Thursday.
The agenda, which grew out of a meeting that de Blasio convened April 2 at Gracie Mansion, the Manhattan mayoral residence, promotes tax and policy changes to help working people and expand the middle class. It calls for higher taxes on the wealthy, and ending the so-called carried interest provision, which lets hedge-fund and private-equity managers reduce their taxes.
Minimum Wage
The plan calls for raising the federal minimum wage to $15 an hour from $7.25, and linking it to inflation. It advocates enhancing workers' right to organize, and opposes trade deals "that hand more power to corporations at the expense of American jobs, workers' rights and the environment."
Earlier Tuesday, de Blasio met with Joseph Stiglitz, the economist who popularized the term "the 1 percent," and U.S. Senator Elizabeth Warren of Massachusetts to introduce a Stiglitz report suggesting that new regulations could curb the flow of gains to the wealthiest and most powerful.
The wealth gap has widened during the past 35 years because of reduced taxes and relaxed regulations, Stiglitz said at an event at the National Press Club.
"It's not just about economics; it's about policies and politics," Stiglitz said. "If we change our policies, we can change the outcomes. It's not the result of inexorable economic forces that we can't control."
Restore 'Balance'
Warren, who says Wall Street recklessness caused the 2008 financial crisis, described the proposed Trans-Pacific Partnership agreement as an example of how Congress has been influenced by corporate interests.
"We need to make changes to restore the balance in trade agreements so the playing field isn't tilted even more in favor of big multinational corporations and against workers," Warren said.
De Blasio has cast himself as a "national convener" for a discussion of inequality, but there are dangers in being away from the city. New York voters said by a margin of 46 percent to 42 percent that his involvement in national affairs is distracting him from his duties, according to a Quinnipiac University poll released Tuesday. De Blasio, who took office in 2014, also received his lowest job-approval rating, 44 percent.
"I don't know of a mayor of New York City who hasn't spoken out nationally on issues affecting the city," de Blasio said. "We can't have New York City and other cities abandoned by the federal government."