The Commander-in-Chief Test for Scott Walker and Rivals: Not Being Obama
The Republicans rarely mention Hillary Clinton at the South Carolina cattle call.
By and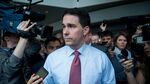 In his first weeks as a presidential front-runner, Wisconsin Governor Scott Walker sometimes said that he could take on the Islamic State because he'd been tough enough to take on unions. After some pushback and mockery, he dropped that line. Saturday morning, at the South Carolina Freedom Summit in Greenville, Walker adopted the pose of a concerned citizen, worried about terrorism coming home.