Marco Rubio Outlines a Liam Neeson Foreign Policy in South Carolina
The Republican also issues a thinly veiled jab to Democratic frontrunner Hillary Clinton as a relic of the past.
By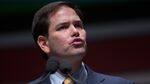 Republican presidential candidate Marco Rubio summed up his hawkish foreign policy in a speech at the South Carolina Freedom Summit on Saturday with a reference to the 2008 thriller Taken.
"On our strategy on global jihadists and terrorists, I refer them to the movie Taken. Have you seen the movie Taken? Liam Neeson. He had a line, and this is what our strategy should be: 'We will look for you, we will find you, and we will kill you,'" the Florida senator said in Greenville.
The line—referring to Neeson's character, a CIA operative threatening a human trafficker who had kidnapped his daughter—earned the top-tier candidate thunderous applause.
The rest of Rubio's rhetoric on foreign policy was familiar, as he spoke about the need to "prevent Vladimir Putin from re-drawing the lines of Europe"; work with allies to "confront Iran's ambitions to dominate the region"; stand firmly with Israel, "the only pro-American, free-enterprise democracy in the Middle East," and work "not just to contain radical jihadists, but to defeat them."
Sprinkled throughout Rubio's speech were ample references to his personal story as the son of poor Cuban immigrants, a fixture of his campaign message. He used the phrase "American dream" no fewer than three times in the brief speech. It was marked less by fiery passion and more by an emotional appeal to let go of the past and embrace the future, a point he made with subtle jabs at Democratic frontrunner Hillary Clinton.
"We are still led by too many people who are trapped in the past, by ideas that no longer work," he said. "We must decide whether to embrace the future and confront its challenges or be left behind by history."
"We have to wake up to the reality that yesterday is over," he said.
On his way out, Rubio gave an interview to a local television station before leaving the building. He paused for photos with fans but declined to take any questions from reporters. Susannah Pazdan, an 18-year-old rising college freshman who scored a photo with Rubio, said she'll "most likely" vote for him in the Republican primary after watching his speech.
"He's just so nice," she said. "And I like how active he is with young voters."