Mike Huckabee Hammers Big Banks in South Carolina
But he thinks the market, not the government, should be responsible for dismantling them.
By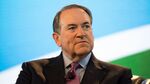 Former Arkansas Governor Mike Huckabee, who this week launched his second run for president, stopped short of saying he would dismantle the big Wall Street banks if elected president.
"It ought to be a market decision," he told reporters after an economic policy speech in South Carolina. "But if the boards of those banks know they are not going to be bailed out, and if they continue reckless policies that put them in a position of vulnerability, they are on their own."
During the speech, delivered Friday to about 90 people at the Upstate Chamber Coalition in Greenville, the former Fox News television host and one-time Baptist preacher outlined his "maximum wage" vision, dismissing calls for a higher minimum wage in favor of policies that boost wages overall and encourage workers to reach for higher-paying skills.
Huckabee reiterated his call to abolish the IRS in favor of a consumption-based Fair Tax, shift economic control to local government, and reform social welfare programs to get workers trained for higher paying jobs.
Huckabee's maximum wage argument isn't a call to cap incomes, however, even though he had harsh words for "too big to fail" banks. He said they benefit too much from government favors and centralized authority.
"The Dodd-Frank banking bill was written to punish the banks that supposedly got us in trouble," he said. "They are bigger now than they ever were."
Such lines, which might draw applause at a political rally, got little reaction from a crowd still evaluating its options in a crowded GOP field. Huckabee, who scored second in the state's 2008 primary and won Greenville County before conceding the Republican nomination to Arizona Senator John McCain, faces a jam-packed field of Republican aspirants. 
Ben Haskew, chief executive of the Greenville Chamber of Commerce and a Republican, was one of those in attendance who remains undecided.
"What we heard as the business community are some things that would really help drive the economy," he said after the speech, noting the region's heavy industrial base. "Like the idea of getting more manufacturing back in the U.S."
Steven Thornton, a branch manager in Greenville for CertusBank, grew up in Arkansas and already has decided to vote for his former governor. He agreed that heavy taxation and red tape have hurt workers and made it more difficult for banks to lend to small businesses and individuals.
"I love the fair tax," Thornton said. "You shouldn't penalize someone for productivity, you should reward them for their efforts."