Poll: Hillary Clinton Dominates in Iowa, Bernie Sanders Second
Support for the former secretary of state remains high in the state, despite a wave of negative news coverage over alleged influence-peddling at her family foundation.
By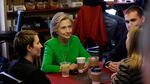 For now, Hillary Clinton has nothing to worry about as she prepares for the Iowa caucuses. Despite a wave of influence-peddling allegations involving her family's foundation, her prospects for winning the first-in-the-nation presidential contest remain undamaged. 
The former secretary of state is backed by 60 percent of likely Democratic caucus participants, a Quinnipiac University poll released Thursday shows. Her nearest rival, Senator Bernie Sanders of Vermont, is supported by 15 percent of those surveyed.
Vice President Joseph Biden is the first choice of 11 percent, followed by Senator James Webb of Virginia and former Maryland Governor Martin O'Malley, who each drew 3 percent.  Another 7 percent are undecided in a still emerging field where Clinton and Sanders are the only formally declared candidates.
Clinton's support is virtually unchanged from a survey the university took in Iowa in late February. Participants in the most recent poll, by margin of 76 percent to 17 percent, say Clinton is honest and trustworthy. Biden scores even better on that question, with a split of 84—10 percent.
"The former secretary of state has taken a major pounding in the news media and from her political opponents over her e-mail and family foundation," Peter A. Brown, the poll's assistant director, said in a statement. "So far, these criticisms have had absolutely no effect on her standing among Iowa Democrats."
Also on Bloomberg Politics: The Definitive Hillary Clinton Scouting Report, by Mark Halperin and John Heilemann
With the first nomination voting set to start in about nine months, Iowa's likely Democratic caucus participants have an 83 percent to 11 percent favorable opinion of Clinton, the poll shows, and 70 percent say her positions on issues are "about right."
Clinton will likely want to have her husband visit the state as often as possible. Former President Bill Clinton's numbers in Iowa are even slightly better than hers, with 87 percent of likely Democratic caucus participants viewing him favorably. That compares to 86 percent for President Barack Obama in Iowa, the poll shows.
The survey of 692 likely Iowa Democratic caucus participants was taken April 25 to May 4. It has a margin of error of plus or minus 3.7 percentage points on the full sample.