'Women Can Learn as Much From Competent Women as Men'
Frontier Communications' Wilderotter is helping women build their own old boys' networks
By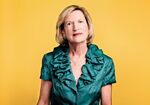 When Frontier Communications then-Chief Executive Officer Maggie Wilderotter sought to make a big acquisition last year, she reached out to some of the best dealmakers she knew. That was to be expected—her intended prey would double the size of the telecommunications company. The bigger surprise was that all her major players in the deal wear skirts.
To negotiate the $10.5 billion bid for a chunk of Verizon Communications' landline assets, Wilderotter tapped JPMorgan Chase investment banker Jennifer Nason, global chairman of its technology, media, and telecommunications practice; Skadden, Arps, Slate, Meagher & Flom partner Martha McGarry, one of the minds behind Coca-Cola's investment in Monster Beverage and its strategic partnership with Keurig Green Mountain; and mergers-and-acquisitions public-relations strategist Joele Frank, whose company represented players in 125 deals with a total value of $414 billion last year. "I hired them because of their talents and competencies," says Wilderotter, who stepped down as CEO on April 1 and remains Frontier's executive chairman. "But it's a win-win that they're women."
That Wilderotter could pull together an all-female cast is a sign of how much gender roles are changing in business. Women hold only about 14 percent of senior executive jobs and 19 percent of corporate board seats at Standard & Poor's 500 companies, according to Catalyst, but increasingly they're leveraging relationships to boost their clout. Like Wilderotter, many women who've reached top management are doing deals together or recruiting and recommending one another for jobs, consulting work, and boardroom seats. It's what men have always done, using contacts made in the old boys' network of putting greens, ballgame box seats, and frat-house reunions.
"Suddenly there's a lot less stigma about women helping one another than there used to be," says Kay Koplovitz, who founded cable's USA Network and is chairman of Springboard Enterprises, which invests in technology companies led by women. "A decade ago there weren't enough women with power to trigger deals or invest in startups—plus many were afraid that if they affiliated with each other, they'd be judged too soft."
Beth Stewart used to be one of those. She started at Goldman Sachs in the 1980s as one of the first female analysts in the investment banking division. When some women colleagues went to a senior partner to ask for more flexible work schedules, she didn't join them. "I said, 'It's your choice to work here, so don't complain,' " she recalls. Since then, Stewart's thinking has "changed completely," she says. "To get ahead, women need to speak up about what they need and want and join together."
Members of the old girls' club are likely to and may know one another through Catalyst, the Committee of 200, or any of the dozens of professional outfits that support women in corporate jobs and work to put more women in them. Stewart, now CEO of Trewstar Corporate Board Services, a headhunter for female directors, belongs to the Thirty Percent Coalition, which advocates for gender diversity in the boardroom, and several other women-focused groups where she meets women who introduce her to board prospects. In the past two years, she's placed 20 female directors at companies such as Symantec and Mosaic.
Doris Meister, president of U.S. markets at BNY Mellon Wealth Management, has met clients through the Women's Forum of New York, which has an invitation-only membership of more than 450 executives and professionals. The same goes for Davia Temin, a former GE Capital top executive who runs the crisis management consultant firm Temin and belongs to advocacy groups including the Women's Forum and WomenCorporateDirectors. "Groups that used to be a refuge" where women could commiserate about their isolation in male-dominated workplaces "have become a destination," she says.

The corporate world still has its queen bees—women who are more critical of female than male subordinates and who have no interest, or even an aggressive disinterest, in helping others of their gender achieve the same level of success. But the old girls' club is aging the queen bee out, Stewart says.
Men still hold the vast majority of leadership positions in business, so women are going to need their help, too. "We know women are paying it forward, but to reach parity all leaders must make an intentional effort to diversify their companies and boards," says Deborah Gillis, CEO of Catalyst.
Wilderotter, who calls networking "my hobby," says women don't have to wait. "Women can learn as much from competent women as men, and sometimes we have more in common, including what it's taken for us to get where we are." She's served on 23 public company boards over the past 29 years and is a director at Xerox and Procter & Gamble.
At Frontier, where Wilderotter became CEO in 2004 after leaving Microsoft as a senior vice president, more than 40 percent of managers and 3 of 10 board members are female. One director is Larraine Segil, an entrepreneur and consultant who advised Wilderotter at Microsoft. "When Maggie was tapped to run Frontier, she said, 'You're coming with me,' " Segil says.
Wilderotter has a thick address book of people of both genders who've helped her land jobs and board seats and whom she's hired or helped. She bonded with Skadden Arps's McGarry over drinks at Fortune's Most Powerful Women conference six years ago, then invited her to dinner. They chatted about their sisters—Wilderotter has three, including Campbell Soup CEO Denise Morrison, and McGarry five—but spent most of the evening talking business. "It's a sport for us," McGarry says. "I work with lots of different companies, and she's been on so many boards, so we can talk about what's happening across industries."
Wilderotter last year had enlisted McGarry and JPMorgan Chase's Nason to negotiate Frontier's $2 billion acquisition of AT&T's Connecticut landline operations. After they closed that deal "without any faux pas," Wilderotter says, she hired them for the bigger Verizon deal. The trio have become friends and together founded Women in America to mentor young women. But "business is business," Nason says. "When Maggie isn't happy about something, I'll get it right between the eyes. And that's a good thing."
The bottom line: Frontier Communications' $10.5 billion purchase of Verizon landlines was handled by an overwhelmingly female team.
Before it's here, it's on the Bloomberg Terminal.
LEARN MORE