Carly Fiorina: Why I Was Fired from Hewlett-Packard
The former HP CEO tries to counter one of the main attacks on her candidacy.
By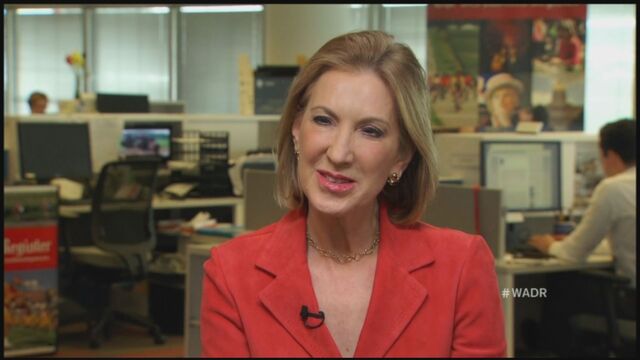 Carly Fiorina's presidential hopes rest, in part, in turning a negative into a positive. 
Interviewed Thursday by the Des Moines Register editorial board, Fiorina portrayed her firing from computer maker Hewlett-Packard as an experience that showed she is a true leader. 
"I was fired in a boardroom brawl," Fiorina said, before being asked what that episode in her life taught her. 
"What I learned is that when you lead, when you challenge the status quo, you are gonna make enemies. It is the nature of leadership," Fiorina, who has never held elected political office, explained.
During her unsuccessful 2010 campaign to unseat California Senator Barbara Boxer, Fiorina's tenure at HP emerged as a central issue. After rising to become the highest ranking woman at a technology company, she was ousted by the board of directors following the controversial merger with Compaq. Fiorina, as she has in several interviews since announcing her presidential candidacy, sought to highlight the positive aspects of her time at the helm of HP. 
"When you manage in tough times, when you lead in tough times, sometimes tough calls are necessary and yet we took that company from about $44 billion to almost $90 billion. We took the growth rate from 2% to 9%," Fiorina said. 
When pressed by the Register's Lynn Hicks—who noted that HP's stock price had fallen by "65 percent" following the merger—why Wall Street investors did not reward her performance, Fiorina blamed the tech bubble. 
"No, actually 50-something," Fiorina corrected, "but if you look at the NASDAQ, that it's only now recovered to it's dot-com highs... after 15 years. So, you go check how many tech stocks were down in that period."