politics
Bernie Sanders Proposes Bill to Break Up Big Banks and Pressure Hillary Clinton
Heidi Przybyla
Bernie Sanders Proposes Bill to Break Up Big Banks and Pressure Hillary Clinton
Heidi Przybyla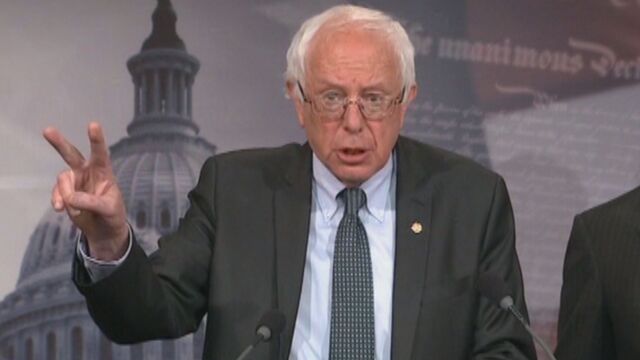 Senator Bernie Sanders proposed legislation to break up the nation's biggest banks, including JPMorgan Chase & Co. and Bank of America Corp., setting up a contrast with Hillary Clinton as both seek the Democratic presidential nomination.
The measure would create a "too-big-to-fail" list compiled by regulators of banks and bank holding companies whose collapse would be considered to pose a threat to the financial system.
Sanders said that list "would have to include" those two banks plus Bank of New York Mellon Corp., Citigroup Inc., Goldman Sachs Group Inc., Morgan Stanley, State Street Corp. and Wells Fargo & Co.
"If an institution is too big to fail, it is too big to exist and that is the bottom line," Sanders, a Vermont independent running for the 2016 Democratic presidential nomination, said at a news conference Wednesday in Washington.
Similar to legislation he introduced in previous years, when Democrats controlled the U.S. Senate, the bill has little chance of advancing. It does, however, allow the underdog candidate to pressure Clinton -- the Democratic presidential frontrunner -- to back up her populist rhetoric on Wall Street with specific proposals.
In Charlotte, North Carolina, Bank of America CEO Brian Moynihan defended big banks at his firm's annual shareholder meeting Wednesday. Clients and shareholders benefit from a wide range of services that provide a diverse income stream, he said.
$13 Billion
"If we broke it up, we'd lose $13 billion in markets revenue a year," Moynihan said. "We'd lose $6 billion in investment banking revenue."
"If you broke it up, each of the entities left over would still be a SIFI," or systemically important financial institution, he said.
Sanders has proposed versions of his legislation in each session of Congress since the 2008 financial crisis. He has sought to attach it to President Barack Obama's 2010 financial overhaul and to advance it as a separate bill.
Sanders voted for what would become the Dodd-Frank Act, though he has said it doesn't do enough to crack down on Wall Street practices.
'Casino-Style Gambling'
"Dodd-Frank did not end much of the casino-style gambling" that occurs on Wall Street, Sanders said at the news conference.
"I fear very much" that the financial system is weaker than people realize, Sanders said. Big banks are 80 percent larger than they were before the financial crisis, he said.
Sanders's bid to break up the banks is part of his populist argument that average Americans are falling further behind in economy as the wealthiest Americans become wealthier. Ninety-nine percent of the income being generated in the U.S. is now going to the top 1 percent of Americans, he contended.
"In the midst of all of this grotesque level of income inequality," said Sanders, "sits Wall Street."
Clinton is trying to unify Democrats behind her presidential bid, including progressives who think that Wall Street is rigging the economy to its own advantage. Yet it is Democratic Senator Elizabeth Warren of Massachusetts, not Clinton, who is identified as the party's crusader against big banks.
Bill Clinton
Clinton also faces hurdles because of her association with her husband President Bill Clinton's administration, which lowered Glass-Steagall restrictions on bank activities and allowed them to grow into behemoth institutions.
For most of Clinton's tenure in the Senate, banking regulation receded from the front tier of the political agenda, until the financial collapse of 2008.
Still, after opposing a banking industry-backed revision in bankruptcy law as first lady, she reversed herself and backed bankruptcy legislation in 2001. Warren has criticized that vote, and then-presidential candidate Obama used it to criticize her in the 2008 campaign.
The legislation didn't pass. When a bankruptcy law was passed in 2005, Clinton didn't vote because her husband was in the hospital.
During her campaign launch in Iowa, Clinton criticized hedge-fund managers who pay lower taxes than "nurses or the truckers I saw on I-80 when I was driving here over the last two days."
Yet there's a risk for Clinton in moving too far toward the positions advocated by Sanders, a self-described socialist.
During the 2012 presidential campaign, Wall Street executives were irritated by Obama's rhetoric and regulatory positions and gave much of their campaign cash to Republican candidate Mitt Romney, co-founder of private-equity firm Bain Capital.
(Updates with additional comment by Bank of America's Moynihan in sixth paragraph.)