In Iowa, Huckabee Defends Social Security and Attacks Fast Track for Trade
The populism tour begins on a factory floor.
By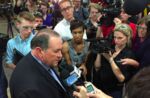 Seven years ago, former Arkansas Governor Mike Huckabee pulled off an underdog, come-from-behind win Iowa's Republican presidential caucuses, powered by evangelical Christians. His return to the state today was studiously low-key and focused almost entirely on economics. Huckabee started his day in the small city of Oskaloosa (pop. 11,568), meeting voters at Smokey Row Coffee Co., talking for a while with local mogul Joe Crookham of Musco Sports Lighting. From there, Huckabee headed to the Clow Valve Company, where a herd of reporters in eye-safety gear filmed his short conversations with workers.