In Iowa, Huckabee Defends Social Security and Attacks Fast Track for Trade
The populism tour begins on a factory floor.
By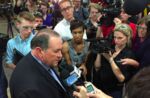 Seven years ago, former Arkansas Governor Mike Huckabee pulled off an underdog, come-from-behind win Iowa's Republican presidential caucuses, powered by evangelical Christians. His return to the state today was studiously low-key and focused almost entirely on economics. Huckabee started his day in the small city of Oskaloosa (pop. 11,568), meeting voters at Smokey Row Coffee Co., talking for a while with local mogul Joe Crookham of Musco Sports Lighting. From there, Huckabee headed to the Clow Valve Company, where a herd of reporters in eye-safety gear filmed his short conversations with workers.
When he turned to face the press, Huckabee accepted a gift from the company's owners—a miniature fire hydrant, in tribute to Huckabee's firefighter dad. "I'm pretty sure that we don't have a place for this, the dogs are going to love it," joked Huckabee, surrounded by employees and fire hydrants on the factory floor. "It's refreshing to see manufacturing alive and well in America. I'll be honest with you. I go to a lot of facilities. I don't see many companies that still take care of things like pensions, health insurance for employees. That's remarkable."
After answering a question about how he felt to return to Iowa, Huckabee was asked by NBC News reporter Kasie Hunt whether Congress should approve "fast track" trade authority.
"They should not," he said.
"That puts you to the left of Hillary Clinton," said Hunt.
"You know, I don't care where it puts me on the horizontal scale," said Huckabee. "I think about it on a vertical basis. If we do another trade deal that drives American wages lower, and that isn't monitored, and isn't secured to be completely fair in how it's administered, then that's not free trade. Free trade is about trade going both ways fairly, accurately. Fast track means that nobody's paying attention. The last time that we really fast-tracked something was Obamacare."
The day before, Huckabee had spent part of his announcement speech defending Social Security from the Republican candidates who would cut it. Bloomberg News asked Huckabee if he would also oppose cuts to the insurance program's disability benefits—something many Republicans wanted to curtail. 
"That, too, is a very important issue for people who are really disabled," said Huckabee. "You never want to make it so that people who are already going through a hardship are going to have a worse hardship, when they're not only fighting a disability but then they're having to fight the government. Sure, you've got to clean up any fraud, and deal with that. But to assume that anyone who is disabled is really fraudulent: I think that's an insult to a person. That's not how we should approach it. We should approach it that people are innocent until proven guilty, not the other way around. You should make the government prove that a person isn't in need, rather than the person having to absolutely prove that they are."
Whether knowingly or not, Huckabee had split with Kentucky Senator Rand Paul, who told a New Hampshire audience this year that "over half the people on disability are anxious or their back hurts." It was just as telling as Huckabee's response to another question from Kasie Hunt. She asked twice whether the former governor would attend a gay wedding. Twice, he ignored the question.