Democrats Pick a Fight Over Letting DREAMers Enlist in the Military
The "jobs Americans won't do" chestnut isn't usually heard in regard to the military.
By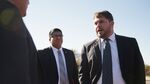 Advocates can point to a dozen or so moments when the 2013 Senate immigration bill died. The final moment—the Seahawks interception toss at the one yard line—was the surprise defeat of then-House Majority Leader Eric Cantor in Virginia. Cantor was seen to favor some popular, small immigration policy change once most of the GOP had escaped primary election season. "There's a Biblical root and a tradition in this country that says we don't hold children liable for their parents' acts, and when you have kids who may have been brought here, let's say, at 2 months old, unbeknownst to them, and they've been here all their lives and they want to serve in our military," he told one interviewer.