Democrats Pick a Fight Over Letting DREAMers Enlist in the Military
The "jobs Americans won't do" chestnut isn't usually heard in regard to the military.
By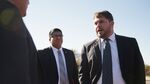 Advocates can point to a dozen or so moments when the 2013 Senate immigration bill died. The final moment—the Seahawks interception toss at the one yard line—was the surprise defeat of then-House Majority Leader Eric Cantor in Virginia. Cantor was seen to favor some popular, small immigration policy change once most of the GOP had escaped primary election season. "There's a Biblical root and a tradition in this country that says we don't hold children liable for their parents' acts, and when you have kids who may have been brought here, let's say, at 2 months old, unbeknownst to them, and they've been here all their lives and they want to serve in our military," he told one interviewer.
Days later, he was out of a job. His successor, Representative David Brat, is working now to strip language out of the National Defense Authorization Act related to the "Enable DREAMers to Serve in Uniform" amendment. Introduced last month by Representative Ruben Gallego, it passed even though the freshman Democrat was, well, a freshman Democrat. It would give the secretary of defense the freedom to enlist people eligible for Deferred Action for Childhood Arrival. And that is seen as a clear threat by Brat and Alabama Representative Mo Brooks.
"Do members of the House Armed Services Committee who voted for this amendment really believe that these are jobs Americans won't do?" asked Brooks in a statement. "It is unconscionable that certain members of Congress seek to use America's military as a bargaining chip in a bid to cement the president's unconstitutional amnesty actions. We can't speak for other Congressmen, but, as for ourselves, we were elected to promote and protect the interests of American citizens, not illegal immigrants."
That chestnut—"jobs Americans won't do"—isn't usually heard in regard to the military. If there's a crisis of qualified, native-born recruits being turned away from the recruiting station to make room for DREAMers, it's been happening in secret. Gallego, an Iraq War veteran, has happily joined the fight with Brat, Brooks, and any Republican who's allowing the amendment to die.
"Senator [John] McCain last night said the Senate wouldn't include this language in their version of the NDAA because the House would never accept that language in the bill," Gallego said Wednesday in a statement. "Senator McCain should stick to his job in the Senate and let the House do our job. This amendment is about defense and what is in the best interest of our nation and our military."
It has another function; it coaxes out the opponents of reform, at a time when the people rebranding the GOP would rather discuss their own efforts to allow DREAMers to serve in the military.