Jerry Brown Warns Drought Means California Must Adapt to Drier Future
Michael B. Marois and Alison Vekshin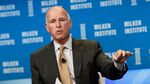 California Governor Jerry Brown said residents must reconcile themselves to a more arid way of life to endure a historic drought.
"Things are changing," Brown told a gathering of water district officials in Sacramento on Wednesday after regulators for the first time required urban water cutbacks. "We need to change, and the drought is a catalyst."
The California State Water Resources Control Board on Tuesday approved an emergency plan requiring 411 suppliers to cut use as much as 36 percent, with those that consume more -- many of them affluent enclaves -- facing tougher restrictions. Residents already face fines of as much as $500 day for wasting water outdoors.
The drought, in its fourth year, has forced farmers in the nation's top agricultural state to fallow millions of acres while some rural communities are running out of water. The cost to drill wells has tripled because of demand and the below-ground aquifer in some parts of the state has sunk to the lowest ever. The price of water is on the rise as utilities increase rates to make up for lost revenue.
Brown, a 77-year-old Democrat, said the Golden State must invest in ways to recycle water and in technology that can use water more efficiently in homes, businesses and farms.
"This is a place of incredible creativity," Brown said. "We have to learn how to extract more value with less material."
Last year, he called for a 20 percent voluntary reduction that the state was unable to achieve. Residents reduced use by 3.6 percent in March compared with the same month in 2013 and by 8.6 percent since June, when officials began tracking conservation data.
Brown in April ordered the board to draft new restrictions.
Water suppliers that don't conserve enough would face a daily penalty of as much as $500, with the fine increasing to as much as $10,000 if the agency issues a cease-and-desist order.
"We know we're not asking people to do things that are easy," Felicia Marcus, the chairwoman of the board, said before its vote Tuesday. "It is better to prepare now than to face much more painful cuts should it not rain in the fall."