Startups Surge as Iranian Tech Finds Silver Lining to Sanctions
Ladane Nasseri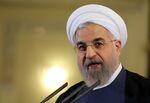 The group of men and women in their twenties sat in a frog-green office on orange chairs as they debated marketing strategies, occasionally breaking to tap on Mac computers or play a game of ping-pong.
The meeting of tech-savvy startup entrepreneurs wouldn't have been out of place in any wired, developed-world city. But this was Tehran, the capital of an Islamic theocracy better known for state-directed heavy industry struggling under the weight of international sanctions.
A decade of economic isolation, austerity and high unemployment has sapped business investment and put all but the essentials beyond reach for most. Yet it has also nurtured a burgeoning club of educated young Iranians with good ideas, little to lose and no competition to speak of.
"They think, 'well, now that I can't find my ideal job let me go and launch my own'," Hamid Mohammadi, the 35-year-old co-founder of Digikala, Iran's fledgling answer to Amazon, said. "Sanctions created a window of opportunity for many of them to begin their business and have it grow before the doors open and large, international companies enter."
Mohammadi's company, founded with his brother eight years ago and that now employs close to 700 people, is among Iran's pioneer Internet ventures. With more than 550,000 unique users per day, it's one of the Middle East's most visited e-commerce sites.
The colorfully furnished Avatech startup accelerator in Tehran is where ideas are exchanged and dreams pursued. Opened last year, it offers free office space, mentoring, a initial grant of 250 million rials ($8,900) and the offer of an introduction to angel investors.
Nuclear Deal
The mood inside was a mix of chirpy self-confidence and guarded anticipation as Iranian envoys edged toward a June 30 deadline for a nuclear deal. An accord with world powers would begin unwinding restrictions placed on the economy, and crack open a market of 80 million people for global companies.
Ever tighter sanctions imposed over concerns Iran might try to develop atomic weapons hollowed out oil exports, slashed revenues and cut the nation off from financial markets. The economy is a fifth smaller than it would have been without stricter curbs enacted after 2010, a January report by the U.S. Congressional Research Service found.
Iranians had to learn to stand on their own, according to Said Rahmani, founder of Sarava, Iran's first venture capital fund, and a driving force behind Avatech. While sanctions led to "a lot of hardship," they forced an embryonic economic diversification that is proving a silver lining, he said.
"The fact that we have to be learning this lesson by force is awful because you should have that wealth and be able to channel it in the right ways to transform the country," Rahmani said. "But the effect on entrepreneurship and those who are willing to step up has been positive."
Youth Promise
Iran's technology entrepreneurs face hurdles their overseas peers don't. Chief among them: they are cut off from global money transfer systems and face restrictions on online advertising and software sales.
Iranian-born Rahmani held business development jobs at IBM and South African media company Naspers and founded his own tech company, Pathlight Technology, in the U.S. He returned to Iran in 2011 as its currency, the rial, was tumbling and the mood darkening.
Rahmani, 53, said he saw promise in a nation where about 55 percent of people have access to the Internet and half the population is aged 20 to 35 years old.
"I told myself, 'just close your eyes and forget about the sanctions and economic problems' because hardship can also create opportunities," he said at Avatech's offices, as half a dozen visiting overseas mentors prepared for a farewell dinner.
Android Apps
Rahmani raised more than $10 million locally from individuals and private institutions at a time when most better off Iranians preferred to stash their savings outside Iran.
Digikala was among his first investments, he said. Four years later, the company is worth $150 million, according to the 2014 World Startup Report, which is produced by a group of Silicon Valley-based entrepreneurs.
Hessam Armandehi is another success. The 28-year-old was pursuing his degree in business design in Sweden when during a break in Iran he decided to launch an android application store, cashing in on the absence of market leaders such as Google Play. Café Bazaar is now valued at $20 million, according to the startup report.
Since his 2013 election, President Hassan Rouhani, a cleric, has prioritized the nuclear talks and ending Iran's pariah status. His declared push to bring Iranians greater freedoms has stalled amid opposition from conservative opponents.
Stay Away
Still, the openness championed by Rouhani, a regular on social media, and the spread of high-speed mobile services has bolstered technology companies.
More than 900 participants attended this year's web and mobile conference in Tehran, four times the number in 2014, Rahmani said. Fifty-one startup guidance weekends have been held in 19 cities since 2012, said Hamdi-Reza Ahmadi, the director of Iran's Entrepreneurship Association.
Tax exemptions, protection for intellectual property, steps to halt one of the world's biggest brain drains, and a waiver from military service would make life easier, those running Iran's startups say. But most of all they want a government that likes to tightly regulate everything from web access to dress codes to keep its distance. Some officials echo that.
'Caged Animal'
"People are able to revive the economy if they are not hindered by obstacles," Minister of Communications Technology Mahmoud Vaezi said at the closing ceremony of web industry summit. "If you succeed," Vaezi said, facing the young audience, "your government will succeed."
At Avatech, idea boards, bean bags and potted plants compete for space with desks covered with pencils, coffee mugs and biscuit packets. Multi-colored Post-it notes adorn window panes; prayer rugs are tucked on a shelf. It's usually buzzing well past 8 p.m.
The center is helping to unleash Iran's potential after its years of isolation, said co-founder Mohsen Malayeri.
"When you cage an animal, even once you open the door it won't step out because that's what it knows as its world," said Malayeri, 30, referring to the psychological impact of sanctions. "When you make people's world smaller, you limit their vision too."