Republicans Tread Carefully as Islamic State Claims Credit for Texas Shooting
When is a shooting a terrorist attack?
By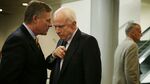 Last week, Iowa Representative Steve King brought Dutch politician and speaker Geert Wilders to Washington for a series of briefings with conservatives. The visited culminated in a daytime, outdoor news conference, where King, Wilders, and Texas Representative Louie Gohmert took 30 minutes of questions. Many focused on Wilders's criticism of Islam as not a religion, but a violent ideology that had to be defeated. King kept bringing the discussion back to free speech.
"He brings with him a message of the experiences they had in Western Europe," said King. "Open dialogue is what's taking place."
Just days later, gunmen opened fire on a Garland, Texas, contest that encouraged attendees to draw the prophet Muhammad, in defiance of Muslim extremists who claim that any such portrayal is offensive. "I have been dragged to court on hate speech charges for speaking the truth about Islam. I was acquitted, but now the authorities are prosecuting me again," said Wilders. "We are harassed, but sympathizers of the Islamic State are left in peace."
Threats to the event had been rolling across social media. The Islamic State quickly claimed that the alleged gunmen, Elton Simpson and Nadir Soofi, had been "brothers" and "soldiers" in the cause. And King, back home in Iowa, told CNN that he could have guessed the location of the attack. The attackers, he assumed, were going after Wilders, the keynote speaker in Garland, and the alleged Islamic State connection was worth investigating.
"How does ISIS coordinate?" King asked. "Sometimes just by inspiration and sending the message around the world. I don't know that ISIS said go to Garland, Texas, and go attack that location and that activity, but they're certainly part of the psychological approach of this that causes people to be radicalized."
As of now, there's no public evidence proving the Islamic State claim. If it was proven, it could be explosive—and it could, post facto, prove the point King and Wilders had been making. Many Republicans, including Texas Senator Ted Cruz, have said that the administration's failure to label as terrorism the 2009 Fort Hood shooting is evidence that it does not take "radical Islam" seriously. But there is some hesitancy about rushing to judgment in Garland. On Tuesday, key Republican members of the Senate were careful about how they described the shootings.
"The investigation is still under way and it will probably take some time to determine all of the ties," said North Carolina Senator Richard Burr, the chairman of the Select Committee on Intelligence. "Certainly, ISIL claims to have orchestrated this, and they potentially have the reach to do it. Whether we can find a definitive thread that would suggest that, we haven't yet."
Asked if he thought the Islamic State claim was credible, South Carolina Senator Lindsey Graham said he did not know. "These are ISIL-inspired guys," he said. "I don't know if there's command and control. I will say this. If there is command and control, that's an ominous turn in the war, but I don't know if it's just all talk by them."
Arizona Senator John McCain, the chairman of the Armed Services committee, said that the Islamic State connection was unproven but that the Garland shooting was clearly terrorism. "Whenever somebody has weapons and tries to kill people, and are currently aligned or inspired by ISIS, certainly it's a terrorist attack," he said.
Defining the Garland shooting as terrorism could affect two mounting debates in Congress: one, over whether authorizations of military force passed in 2001 and 2002 could justify the current attacks on the Islamic State, seemed to be at an impasse; the other, over surveillance, would be coming to a head as the PATRIOT Act renewal date approaches.
"It probably gives some ammunition to those of us who would like to see the kind of surveillance that would prevent any attack," said McCain. "Maybe because of not only this attack, but all the other attacks that are taking place—Paris, for example—there's more ammunition to those of us arguing for strong oversight."
Burr denied that the shooting had altered the privacy debate. "It just reinforces the need for us to have one," he said.