Republicans Tread Carefully as Islamic State Claims Credit for Texas Shooting
When is a shooting a terrorist attack?
By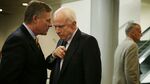 Last week, Iowa Representative Steve King brought Dutch politician and speaker Geert Wilders to Washington for a series of briefings with conservatives. The visited culminated in a daytime, outdoor news conference, where King, Wilders, and Texas Representative Louie Gohmert took 30 minutes of questions. Many focused on Wilders's criticism of Islam as not a religion, but a violent ideology that had to be defeated. King kept bringing the discussion back to free speech.