politics
Mike Huckabee to Seek Republican Presidential Nomination
He has name recognition from a previous run and a stint as a talk show host, but fundraising could prove to be a challenge.
By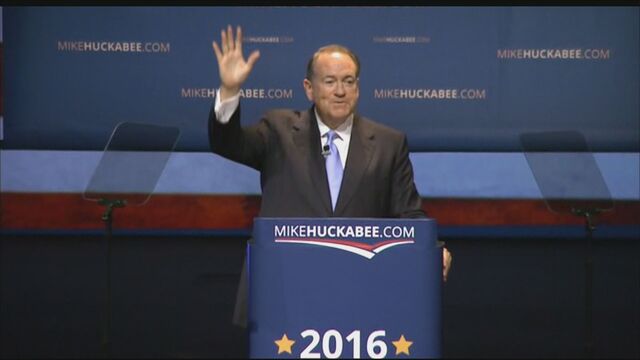 Former Arkansas Governor Mike Huckabee announced Tuesday that he would again seek the Republican presidential nomination, telling supporters in his hometown of Hope, Ark., that power, money, and political influence are leaving most Americans behind.
"It seems perfectly fitting that it would be here that I announce that I am a candidate for president of the United States of America," Huckabee told a crowd of about 2,000 admirers.
The 59-year-old former talk-show host and Christian preacher is expected to tout his decade of experience leading Arkansas and his conservative credentials.
Huckabee joins former Hewlett-Packard Chief Executive Officer Carly Fiorina and Ben Carson, a retired neurosurgeon, in declaring a run for the party's nomination this week. Along with Texas Senator Ted Cruz, Kentucky Senator Rand Paul, and Florida Senator Marco Rubio, Huckabee is among the highest-profile Republicans to join officially.
Fundraising Challenge
Despite television celebrity and a strong showing in the 2008 presidential primaries, he may be challenged in raising money and dominating conservatives' attention in a crowded field.
Huckabee won eight state nominating contests in 2008, including five in the South after a surprise leadoff victory in the Iowa caucuses. He took second in South Carolina before his fundraising faltered and he dropped out of the race.
Seven years later, his name recognition is broader after years hosting his own talk-radio program and Fox News shows. He gave up both to explore a campaign. The shows and years on the lecture circuit have made him more financially secure as well.
"I think this finally will be a very different issue in terms of financial support," Huckabee told reporters last month in Washington. "For the past 6 1/2 years, being on television and radio every day, that's certainly turned the equation."
Whether he can attract big-money donors remains a question, however, especially for a candidate who hasn't been shy about his distaste for of fundraising.
Huckabee supporters started a super-PAC this year called Pursuing America's Greatness. A separate Huck PAC raised about $2.3 million to help candidates in last year's elections, according to Federal Election Commission disclosures.
The money may be greener elsewhere in the Republican Party.
Allies of former Florida Governor Jeb Bush, who is exploring a bid, were looking to raise $100 million during the first three months of this year, according to Republicans involved in finance meetings with Bush's team. The money was to be raised by Bush's campaign committee and a super-PAC, both named Right to Rise.
"I think we're getting traction already," Chip Saltsman, senior adviser to the campaign, said. "We feel really good about where we are financially. Like I said, the bar was low last time."
Anti-Obama
Huckabee has said he opposes the Affordable Care Act, President Barack Obama's signature domestic accomplishment. He wants to stem the flow of undocumented immigrants. He rails against the federal government's protection of Wall Street banks and promises to strengthen the middle class.
At the Iowa Agricultural Summit in Des Moines on March 7, Huckabee said revisions to U.S. immigration policy should "stem the tide of people who are rushing over because they've heard there's a bowl of food of food just across the border."
Saltsman said Huckabee will speak "a lot more" about national security than he did in 2008, given the looming threat from the Islamic State.
"This is a very dangerous world," said Saltsman, who managed that campaign.
Some of the biggest applause in Huckabee's speech on Tuesday—on a stage with a digital backdrop displaying American flags and glossy videos—came with lines about protecting veterans, balancing the federal budget, eliminating the IRS and defending against radical Islam.
After confirming his candidacy, Huckabee wasted no time launching into criticism of Obama's tenure.
"Eight years later our debt's more than doubled, America's leadership in the world is completely evaporated, the country is more polarized than ever in my lifetime, 93 million Americans don't have jobs, and many of them who do have seen their full-time job with benefits they once had become two part-time jobs with no benefits at all," he said. "Now we need the kind of change that really could get America from hope to higher ground."
Weak Spot
The biggest liability for Huckabee, who soon will celebrate 41 years of marriage with his wife, Janet, may be his social conservatism. Some Republicans worry general-election voters will see Huckabee more as a preacher than an administrator.
"I think he's good but I don't think he can win," said Sandra Rankin, a delegate at this weekend's South Carolina GOP convention. "I like his Christian values but people are probably going to think he is leaning so much on the religion."
That was underscored by a Bloomberg Politics national poll taken last month. Huckabee had some of the highest support among Republicans and independents, with 15 percent of respondents saying they would "seriously consider" supporting him and 40 percent saying they "might consider" doing so. But more than 1 in 3 respondents said they would "never consider" his candidacy.
Conservatives also have at times taken shots at him for the sins of expanding state government and raising taxes, both of which Huckabee denies. Huckabee's fledging campaign has already made a point to say he cut taxes nearly 100 times in Arkansas.
Club for Growth Action, a branch of the Republican anti-tax and anti-spending group, on Tuesday released a television ad it says will air against Huckabee in Iowa and South Carolina. "If Governor Huckabee's record looked more like candidate Huckabee's talk, then perhaps he could be the economic conservative he claims," Club for Growth President David McIntosh said in an e-mailed statement. 
Clinton History
Huckabee also may try to focus attention on his longtime battle with Bill and Hillary Clinton in Arkansas. Both Huckabee and the former president hail from Hope, and Huckabee predicted last month that Hillary Clinton will be the Democratic nominee. Huckabee said the Clintons made a habit of returning to Arkansas to campaign against him.
"There's only one person I know in the Republican field that has consistently run against the Clinton political machine, the Clinton political money," he told reporters in Washington last month. "The good news for me is I've defeated that political machine."
On Tuesday, he jabbed at Clinton and sitting office-holders running for president, while acknowledging the fundraising task ahead of him.
"I will be funded and fueled not by the billionaires but by working people across America who will find out that $15- and $25-a-month contributions can take us from Hope to higher ground," Huckabee said.
"Now rest assured, if you want to give a million dollars, please do it, but I know most of you can't. I'm just going to ask you to give something in the name of your children and grandchildren. I walked away from my own income to do this, so I'm not asking you for some sacrifice I'm not willing to make. I don't have a global foundation or a taxpayer-funded paycheck to live off of. I don't come from a family dynasty but a working family."
Career Rise
Huckabee, a former president of the Arkansas Baptist Convention, became lieutenant governor in a 1993 special election.
In 1996, he became governor, an office once held by Bill Clinton, after Democrat Jim Guy Tucker was convicted of fraud related to the Whitewater real-estate investment probe. Huckabee won two more terms, serving through 2007.
Longtime friend Rick Caldwell said Huckabee's calling has always extended beyond the church. He recalled sitting with Huckabee on their dorm floor at Ouachita Baptist University in 1973 and asking him what he wanted to be "when he grew up."
A lifelong Baptist and already a weekend pastor, Huckabee didn't have to think long, Caldwell said:
"He said, 'You know, I never see myself really being a pastor. I really feel more compelled to get involved helping Christian people and the people of our country see the things that are important and mobilize them to action.'"
(Updates with details of speech starting in 18th paragraph.)
Before it's here, it's on the Bloomberg Terminal.
LEARN MORE