The Definitive H&H Carly Fiorina Scouting Report
The former Hewlett-Packard CEO steps into a crowded Republican field.
By and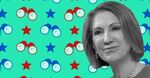 What she's got: High-level executive and management experience from her tenure as head honcho of Hewlett-Packard; private-sector bona fides bolstering her economic message; compelling secretary-to-CEO professional biography; history as a breast cancer survivor, which marks her as tough and relatable to many women; all but certain status as the only female in the GOP field, which allows her both to stand out and to cudgel Hillary Clinton in ways that might seem sexist coming from any non-female rival.
What she lacks: National name recognition; a significant record of public service; a winning record in electoral politics; policy chops on any topic unrelated to job creation and regulation (and substantive detail on those); convincing answers to questions about her ouster from HP; a clear and plausible early-state strategy.
Biggest question mark: Can she overcome the widespread perception that she isn't actually seeking the Republican nomination but rather auditioning for the VP slot or a cabinet post?
Message: Fixing what ails American capitalism requires an actual capitalist in the White House.
Signature issues: Tax reform, deregulation, small business promotion, cracking down on "crony capitalism" (all in largely unspecified ways); abortion (she is ardently opposed); anti-Clintonism.
Core constituencies: Women who aren't ready for Hillary; voters looking for an outsider; California Republicans who supported her in her failed 2010 Senate race against incumbent Barbara Boxer.

Fundraising mojo: Raised $22.6 million in her Senate run (including $5.2 million she contributed herself), so she starts off with a decent donor list to mine. Significant super-PAC and online potential. In connection with her Senate bid, filed paperwork pegging her net worth at $30 million to $120 million—so unless she's been on a personal spending spree, self-funding is a real possibility.
Spouse and family: Husband, Frank, retired in 1998 to support Carly's career and help raise Traci and Lori Ann, their daughters from Frank's previous marriage. In 2008, Lori Ann died at age 35 after struggling with what Fiorina has described as "the demons of addiction."
Perceived electability as GOP nominee: Would scramble Electoral College and demographic decks in a matchup with Hillary Clinton.
National-security credentials: Has traveled extensively for business around the world and served on the CIA's External Advisory Board, which came with a top security clearance; she talks a big, hard-edged, neo-connish game on foreign affairs. 
Television skills: Strong and vibrant presence on the small screen, with significantly improved stump speaking, if sometimes a bit brittle in interviews.
Social media/online chops: Her 356K Twitter followers give her a smaller following than Rand Paul or Marco Rubio but one comparable to that of Ted Cruz; tends toward straightforward self-promotion (event photos, alerts about upcoming speeches or TV hits) when she tweets. Her netroots potential is largely untested.
Media coverage: More consistently favorable in 2015 than that accorded any Republican prospect except Rubio; her stewardship of HP, her Senate race, and her time as a John McCain surrogate in 2008 all will come in for serious, potentially unflattering scrutiny if she takes off as a candidate.
Polling strength: Low single digits—at times nearing asterisk territory—nationally and in key early states.
The Big Mo: Has been on a media roll for months, which as yet hasn't translated into signs of growing tangible support.
Fire in the belly: Will bring energy, doggedness, and determination to her bid—and especially to her self-styled role as Clinton's most relentless critic.
The hang test: Her wealth and corporate big-shot persona have been softened somewhat by recent, occasional flashes of humor and humanity.
Challenges party orthodoxy: Favors government benefits for same-sex couples bound by civil unions, putting her to the left of many in the GOP. 
Best moment of 2016 cycle so far: Her sharp, rousing, Clinton-bashing speech at CPAC won rave reviews and put her squarely in the 2016 conversation.
Worst moment of the 2016 cycle so far: During an appearance on Morning Joe she was confronted with her own poor performance in the California Senate race, as well as her firing from HP. Held her own, but the exchange demonstrated that the interpretation of her history will continue to be a central issue for her prospects. 
Best Bloomberg Politics moment: Watching House of Cards with Matt Negrin at CPAC. 
Picture she doesn't want you to see: Carly and Frank Fiorina waiting for news that she lost the 2010 Senate race with her two granddaughters.
CORRECTION: An earlier version of this report omitted Fiorina's global travel and service on the CIA External Advisory Board.