State Department Says No Evidence Donations Influenced Hillary Clinton
David Lerman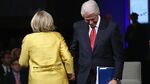 The State Department hasn't seen evidence that decisions made by Hillary Clinton when she was secretary of state were influenced by donations to her family's foundation or speaking fees to her husband, a department spokesman said.
"We are not aware of any evidence that actions taken by Secretary Clinton were influenced by donations to the Clinton Foundation or speech or honoraria of former President Clinton," the spokesman, Jeff Rathke, told reporters on Monday in Washington.
"Over the course of Secretary Clinton's tenure, the State Department received requests to review dozens of entities each year, primarily for proposed speeches" by former President Bill Clinton, and "we are aware of no evidence that there was undue influence."
The State Department's comment came in response to assertions that Hillary Clinton may have been influenced by donations to her family's foundation while she served as the nation's top diplomat. The accusations, including in a new book, surfaced after she announced her campaign for the Democratic presidential nomination.
Rathke provided no information about what, if any, formal review the State Department conducted beyond disclosures that were submitted by Clinton under an agreement to do so when she led the department.
Public Reports
"I don't have a systematic or an organizational effort to outline for you," he said. Pressed on that point, Rathke said he will seek further details.
"We've looked at the reports that have been out there publicly, and we don't have any evidence, any internal evidence, to suggest that there was that kind of influence," he said.
When Clinton became secretary of state in President Barack Obama's first term, she signed a letter committing "not to participate personally and substantially in matters where the Clinton Foundation or the Clinton Global Initiative were specific parties," Rathke said.
She also signed a memorandum of understanding in which her family's foundation agreed to publish annually the names of new contributors and to "submit information to the State Department about foreign government donations," Rathke said.
"A review of private-firm donations was outside the scope" of the agreement, he said.
'New Commitments'
Bill Clinton's attorney signed a separate letter agreeing to provide the State Department with the names of people or entities for whom the former president provided consulting services, Rathke said.
The memorandum of understanding "was set up to avoid potential conflicts and appearances of potential conflict between the duties of the secretary of state and the activities of the foundation of President Clinton," Rathke said.
While aware of reports that the foundation failed to publish names of some new contributors, "We welcome the new commitments from the Clinton Foundation to disclose the donors," Rathke said.
Bill Clinton defended his speaking fees, which are often hundreds of thousands of dollars, and denied any conflicts of interest.
"I gotta pay our bills," Clinton said in an interview with NBC News broadcast Monday.
He said he has turned down speeches he thought would be inappropriate.
"If I think there is something wrong with them, I don't take it," he said.
He and his wife have both contributed more than 10 percent of their earnings from speeches to their family foundation, he said.