Scott Walker and Absentee Governors Get Heat for Too Much Time on Presidential Trail
Out-of-state travel may be one reason the Wisconsin governor's poll numbers have sagged, even as his standing in early presidential primary and caucus states has risen.
By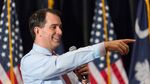 At least Governor Scott Walker made Wisconsin's fishing season opener on Saturday.
Crisscrossing the county ahead of a likely Republican presidential run, Walker has been noticeably absent from Wisconsin since late January, when his U.S. and European travel ramped up. His critics are starting to ask if he's paying enough attention to his day job.
With Walker gone so much, even a state legislature controlled by his own party is struggling for direction, said state Senator Jon Erpenbach, a Democratic member of Wisconsin's joint budget committee. "The Senate has one idea, the Assembly has another—and the governor is in a plane somewhere."
The out-of-state travel may be one reason Walker's poll numbers in Wisconsin have sagged, even as his standing in early presidential primary and caucus states has risen.
Other declared or likely Republican presidential candidates—senators Marco Rubio of Florida, Rand Paul of Kentucky, Lindsey Graham of South Carolina, and Ted Cruz of Texas—also must juggle their regular gigs while eyeing the highest political job in the land. But it's governors such as Walker—not to mention Chris Christie of New Jersey, John Kasich of Ohio, and Bobby Jindal of Louisiana—who face the trickier balancing act.
"When you are the governor, there is so much more attention on you as the leader of the state," said David Canon, a political science professor at the University of Wisconsin in Madison. "When you are one in 100 senators, it's less noticeable."
Senators get criticized if they miss too many votes in Washington, but many of the "cattle call" events required of presidential aspirants—say, a speech to the Conservative Political Action Conference—are in the the nation's capital or its suburbs. So they can swing by and get right back to their elective duties. And the congressional calendar often only requires them to be in Washington about three days a week, with extended breaks where they can campaign without missing votes.  

It's not so easy for a guy like Walker. After Democrats in Wisconsin grumbled last month about the costs associated with his security detail working outside the state, his political committee, Our American Revival, said it would reimburse the state for hotels, flights, rental cars, and other costs.
Voters typically don't like their governors to run for the White House, said David Redlawsk, a pollster at Rutgers University. "More often than not, voters are pretty negative about it, even if they like the guy," he said. "I think it's a sense that, 'We hired you to do a job, and you should be doing that job.' "
Media outlets in the home states of the governors preparing for 2016 presidential runs have chronicled the number of days their chief executives have spent out of state, drawing greater attention to their absences.
The Wisconsin State Journal reported last week that Walker has traveled at least 56 days this year. The total, through April 25, includes trips on official business, such as trade missions to Europe and meetings in Washington.
Christie, who had a robust fundraising schedule last year as chairman of the Republican Governors Association, spent 152 days outside New Jersey in 2014, the New York Times reported. Jindal spent almost half of 2014 outside Louisiana, according to the Baton Rouge Advocate.
All three governors have droopy job approval ratings. Just 38 percent of New Jersey voters approved of Christie's performance—his lowest approval ever—in a Quinnipiac University poll released April 20. His absences have sidetracked him from working to solve long-term economic problems and fix the state's pension system, New Jersey Senate President Stephen Sweeney, a Democrat, told reporters last week.
Christie's retort to reporters: "That's fine, and he can say those kinds of things. But I'm here and I'm available to talk anytime they want to talk. I've been very involved in the budget process."
Jindal told reporters in Washington last week that he's not losing track of his day job, insisting he's "actively engaged" and meeting with legislative leaders in his state "every week," according to the the Times-Picayune newspaper in New Orleans.
George W. Bush and Bill Clinton were sitting governors when elected president, so there's precedent for overcoming this particular challenge. It's just more complicated for those still in the office than it is for former governors such as Jeb Bush of Florida, Rick Perry of Texas, and Mike Huckabee of Arkansas.
Laurel Patrick, a spokeswoman for Walker's office, said in a statement: "As he has always done, he meets weekly and talks regularly with legislative leadership, as well as legislators, to discuss issues important to Wisconsin. He also continues to work with lawmakers on a budget that best serves Wisconsin's citizens and businesses."
Still, there have been close calls for Walker. In March, he was traveling in Texas as funeral preparations were being made for a state trooper killed in the line of duty. The governor barely made it back in time for the service, after delivering a political speech the night before in Houston.
Walker often tells reporters he won't announce a presidential bid until after the Wisconsin legislature passes a two-year budget, likely in June. That means that for the next month or so, he may need to spend more time in Madison and less in Des Moines.
"The governor really has not been very active in those budget negotiations, so there has been some grumbling even in his own party," Canon said of the second-term governor, who's traveling in Michigan on Monday.

On such stages outside his state, Walker presents Wisconsin as a successful lab for the limited-government mandate pushed by his party's base and top donors. So what happens in Wisconsin in the next six weeks to address a potential $2.2 billion budget shortfall is important to his narrative.
A Marquette Law School poll released April 16 showed Walker's job approval rating has fallen to 41 percent, down 8 percentage points since October. Much of the decrease is a result of dissatisfaction with the state's budget process, said Charles Franklin, the poll's director.
A year ago, Franklin said, 48 percent of registered voters said the state's budget was in better shape than a few years ago. That number dropped to 33 percent in the latest poll. Even among Republicans, it dropped to 63 percent from 81 percent a year ago.
"It's across the board, but maybe more damaging is that it's within his own party," Franklin said. "He's not here traveling around the state selling his budget and defending his budget. That's very different because Walker's style has been to govern by traveling around the state."
Two-thirds of Wisconsin's registered voters in the poll said "no" when asked whether any governor can run for president and still handle state duties.
There is one upside for sitting governors: They tend to have state security details traveling with them wherever they go. This allows them to speed through traffic, provides built-in crowd control, and can even present a more presidential-like appearance to voters.
There's no question Walker still spends time on gubernatorial duties in Wisconsin. Just last week, he gave two public speeches on Wednesday, led a joint meeting Thursday of two state agencies, and then went on a tourism-promotion tour.
Canon, the professor in Madison, said Walker was wise to make sure he was in the state over the weekend: It was the official start of the fishing season, a tradition almost as politically important as the fall deer hunting season.
—With assistance from Terrence Dopp in Trenton, N.J.