Income Equality Makes Washington Worst Rich Capital for Infants
Sangwon Yoon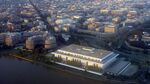 Infants die at a higher rate in Washington than in any other capital city among the world's 25 wealthiest nations.
According to a report issued Monday by Save the Children, Washington, D.C., had an infant mortality rate of 7.9 deaths per 1,000 live births in 2012, compared with rates of 2.0 or less in the best-performing cities, Prague and Stockholm.
The aid group's report tied Washington's poor performance to the city's poorest neighborhoods, a finding that's likely to find its way into the political debate over income inequality. Presidential candidates including Democrat Hillary Clinton and Republican Jeb Bush have said they'll campaign on ways to reverse the growing gap in income across the U.S.
Infants born in poor and mostly black areas, such as those across the Anacostia River from the U.S. Capitol, die at a rate more than 10 times higher than those born in wealthier, whiter areas in the city's northwest, Save the Children said in its annual report, the "State of the World's Mothers."
The poverty rate in Washington reached 18.9 percent in 2013 after a steady increase since the 2007 recession, according to the U.S. Census Bureau. About 75 percent of the poor in Washington, which has the fourth-highest poverty rate in the U.S., are black, according to the census bureau's American Community Survey released in October.
While infant mortality in Washington has been generally declining, to a low of 6.6 deaths per 1,000 live births in 2013, the report said, "it is still three times the rates found in Tokyo and Stockholm."
Mortality as Indicator
The rate of infant mortality is a leading indicator of a government's strength and capacity to improve health and economic conditions, said Erin Simpson, chief executive officer of Caerus Associates LLC, an Arlington, Virginia-based policy group that assesses security in urban environments.
More than half the world's population now lives in urban areas, and that's where unrest is spawned, said Simpson. "You don't have protests in Pakistan; you have protests in Lahore."
While a high infant mortality rate isn't a direct precursor of instability, it affects economic productivity, health and quality of life in a city or a nation, said Bina Valsangkar, a pediatrician and technical adviser for Save the Children's Saving Newborn Lives program.
"When infants die less frequently, women actually choose to have fewer children, and that results in an increase in investment in the health, well-being and education for each of those children, which has a long-term impact on other economic productivity," Valsangkar said.
Smaller Families
Parents decide to have smaller families when children survive in greater numbers because human beings "don't reproduce mindlessly," Bill and Melinda Gates wrote in a 2014 annual letter for their family foundation, which underwrote the Save the Children report along with Johnson & Johnson.
As of 2012, the top 5 percent of Washington's households had incomes that on average were 54 times those of the lowest 20 percent, the fourth-highest income gap among the 50 largest U.S. cities, according to a report by the DC Fiscal Policy Institute.
Save the Children's report also included a Mothers' Index, ranking 179 countries on mothers' and children's health, educational, economic and political status.
Norway was ranked the best country in which to be a mother, followed by Finland, Iceland, Denmark and Sweden. Israel placed 18th, followed by countries including Greece (19th,) France (23rd), and the U.K. (24th). Somalia ranked last, behind countries including Iran (84th), Syria (111th) and India (140th).
The U.S. placed 33rd, which is relatively high in absolute terms, but "dead last" compared with other developed nations, Save the Children's Valsangkar said.
It didn't rank higher because 6.9 per 1,000 newborns die before they reach their fifth birthday, and American mothers are more than 10 times as likely as women in Austria, Belarus or Poland to die from a pregnancy-related cause, according to the index.