Carson, Fiorina, and Huckabee Must Find Their Money Paths in 2016 Presidential Race
With an expected bumper crop of Republican candidates, these new entrants will have to scrap for campaign cash.
By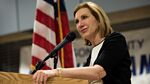 The Republican presidential field is set to grow by three this week with the entries of retired neurosurgeon Ben Carson and businesswoman Carly Fiorina and the expected announcement Tuesday of former Arkansas Governor Mike Huckabee.
With an expected bumper crop of GOP candidates, these latest entrants will have to scrap for campaign cash. Here's a look at how they might do it.
Ben Carson 
There are signs that a Carson candidacy could explode online. A super-political action committee pushing him to run has raised about $13.5 million in less than two years. Carson's exploratory committee collected more than $2 million in its first 28 days from almost 40,000 donors, according to Mike Murray, a senior adviser to the campaign. The campaign has averaged about 1,000 new donors per day in recent weeks. But Carson has never run for office, and therefore lacks the donor and supporter lists available to 2016's veteran candidates. He has been investing in list rentals to build up his data. 

Carson will "bless" one super-PAC and expects other supporter projects to pop up, according to Barry Bennett, Carson's campaign manager. Aides acknowledge that to really compete, big money will eventually have to flow Carson's way. Carson, for his part, says he isn't concerned with specific monetary goals (on some level to the chagrin of the aides now focused on trying to close the gap with top-tier candidates). "I look at, do we have the resources to pay for everything we want to do?" Carson said in an interview before his announcement. "And the answer to that is yes."
Also on Bloomberg Politics: The Definitive Ben Carson Scouting Report, by Mark Halperin and John Heilemann 
Carly Fiorina
Fiorina enters the race with a key financial strength: Her own bank account.
When the Hewlett-Packard board fired her from the CEO position in 2005, it sent her on her way with a $21 million severance package. Five years later, she paid almost $6.8 million out of pocket to run against Democratic Senator Barbara Boxer of California. (The campaign paid back about $1.5 million.) Fiorina's financial disclosures for that race showed her net worth between $30 million and $120 million.
A political newcomer in that race, she showed a surprising prowess for fundraising, raising $14.7 million in addition to her own investment, Federal Election Commission records show. Her high-profile fundraising hosts and guests during that race included former Secretary of State Condoleezza Rice, Koch Industries, and defense companies, old invitations show.
Fiorina, like Carson, is already set to land big donors. In February, her supporters formed the super-PAC Carly for America, and it has put up a few early ads boosting her.
Also on Bloomberg Politics: The Definitive Carly Fiorina Scouting Report, by Mark Halperin and John Heilemann 
Mike Huckabee
Huckabee sought the Republican presidential nomination in 2008 and flirted with running in the last presidential cycle. But as his team has acknowledged, fundraising isn't his strongest suit. In a field as crowded as this one, that's a problem.

"He was handicapped seven years ago by a lack of funds," said Rex Nelson, a former Huckabee aide who doesn't plan to be involved in a new campaign but appeared in Huckabee's 2016 announcement preview video. "He made it clear that if he ever ran again he would want to have more commitments on the front end, to avoid having basically the shoestring budget that he ran on the last time."
In the 2008 race, Huckabee raised and spent about $16 million, enough to help him win the important Iowa caucuses and four other states. But his campaign finances couldn't keep pace with his primary momentum, and he dropped out. He has since been affiliated with Huck PAC, which raised about $2.3 million to help candidates in last year's elections, the FEC shows, and he has raised his national profile as a popular radio and TV personality.  
—Phil Mattingly contributed to this report.