Rick Santorum and the GOP's Transgender Tolerance Movement
Social conservatives hesitate to criticize Bruce Jenner.
By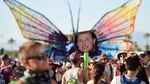 COLUMBIA, S.C.—Last week, Olympian and reality TV star Bruce Jenner revealed that he was a transgender woman in transition. More surprisingly, he revealed that he was a Republican, who "believed in the Constitution." Jenner had never tried to hide this, and anti-tax activist Grover Norquist quickly revealed that Jenner had attended a meet-up for Hollywood conservatives. Given the LGBT community's strong ties to Democrats, though, the fact that an instant transgender icon was a Republican made news.
"We now don't care that you're transgender, because the fact that you're a Republican is yuk," said radio host Rush Limbaugh, imitating an intolerant liberal. "How could you dare? You can't be a legitimate transgender and be a Republican." 
That quote foreshadowed another unexpected phenomenon: The conservative response to Jenner is somewhere between an embrace and a shrug. When the gossip site TMZ ambushed Utah Representative Jason Chaffetz, the Mormon Republican said he wasn't going to "sit around and judge" Jenner.
On Saturday, at the South Carolina GOP convention, former Pennsylvania Senator Rick Santorum told BuzzFeed's Rosie Gray that he would not critique Jenner either.
"You know, if he says he's a woman, then he's a woman," said Santorum, trailing off a little at the end of the sentence. "Look, this is an issue—my responsibility as a human being is to love and accept everybody. Not to criticize people for who they are. I can criticize, and I do, for what people do, for their behavior. But as far as for who they are, you have to respect everybody, and these are obviously complex issues for businesses, for society, and I think we have to look at it in a way that is compassionate and respectful of everybody."
Santorum was not making a blanket statement about transgender rights. "I don't think the federal government should get into the whole issue of bathrooms," he said. "I think those are things that the business community and local organizations should deal with."
That hinted at the limits of the conservative transgender perestroika. Santorum was taking essentially a hate-the-sin, love-the-sinner approach, something any conservative could say about gay rights while remaining opposed to gay marriage or even gay adoption. Yet it was a man-bites-dog kind of statement to hear from one of the Republican Party's leading culture warriors. South Carolina Senator Lindsey Graham, a social conservative on most issues, was even more welcoming to Jenner.
"What he is going through, I can't imagine or relate to, but I know from just the look and the sound and the voice that it must have been hell," Graham told Bloomberg. "We've got an opportunity here to grow the party, and that doesn't mean abandoning the basic principles. I'm looking for consensus. I'm looking for people that would help me take the country in a new direction. That group is going to have to be more diverse."
Did Graham think that Jenner really was born to be a woman? "I can only say that it is clear he is a tortured soul," Graham said. "If he can find relief, and a better life, god bless."
Delegates to the convention, a gathering of one of America's most conservative state parties, were generally unmoved by questions about Jenner. They did not endorse him; they were fine sharing a country with him.
"It was despicable that 17 million people watched that," said a seersucker-suited retiree named John McLean, after he'd buttonholed Texas Senator Ted Cruz to discuss gay marriage. "Homosexuals shall not enter the Kingdom of Heaven, but God loves them."
Joe Cali, a transplant from New York City who worked for the Navy, was less outraged by Jenner but just as disinterested in his transition. "I don't understand it," he said. "I'll never understand it. But as long as you're happy, you're happy. Hey, you're not hurting anybody else."
—Duane Stanford contributed to this report.