Rick Santorum and the GOP's Transgender Tolerance Movement
Social conservatives hesitate to criticize Bruce Jenner.
By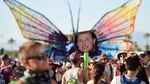 COLUMBIA, S.C.—Last week, Olympian and reality TV star Bruce Jenner revealed that he was a transgender woman in transition. More surprisingly, he revealed that he was a Republican, who "believed in the Constitution." Jenner had never tried to hide this, and anti-tax activist Grover Norquist quickly revealed that Jenner had attended a meet-up for Hollywood conservatives. Given the LGBT community's strong ties to Democrats, though, the fact that an instant transgender icon was a Republican made news.