How to Quit Your Job and Travel
More American companies are offering paid sabbaticals. It's more fun to jump off the career path entirely
By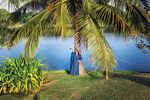 When Jodi Ettenberg left her job as a corporate attorney in 2008, she thought she'd eventually return to law. But one thing led to another, and seven years later, she now runs Legal Nomads, a food and travel website. "In many countries, it's seen as strange if you don't take a year to travel," Ettenberg, 35, says. "When I visited New Zealand, they thought quitting was the best thing I could do."
Most thriving companies don't want employees running for the exit. So many—including Goldman Sachs, General Mills, the Container Store, and about 20 others listed as Fortune's Top 100 Companies to Work For in 2015—have begun offering paid sabbaticals. You sign up, go away for a few weeks, then come back ready to work harder. There's no comprehensive data on the number of U.S. workers participating in such programs, but "the fact that companies are even ranked on this perk is promising," says Sherry Ott, co-founder of meetplango.com, which helps organize the trips. "Good companies realize the value of time off."
Good employees do, too. Especially as young professionals have started switching jobs every other year, and "permalance" has become slang that needs no explaining: 53 million employees—or a third of the U.S. workforce—qualify as freelancers, according to a 2014 Freelancers Union report. The notion of job security is antiquated. And with the strengthening U.S. dollar, taking an occupational timeout seems more viable than ever, even if it's not company-subsidized.
I know this because, six months ago, I did it myself. (I didn't ask my company to help foot the bill, because I knew I hadn't worked there long enough.) I was 32 years old, entering what was the peak of my professional media career. I made good bank and had a great boss. But secretly I was miserable. I felt desk-bound and restless, mired in workplace hierarchies. The Sunday night blues, as my dad called them, lasted all week—a combination of garden-variety burnout and disillusionment with my field. When I looked around at colleagues 10 years my senior and asked myself, "Do I want their jobs?" the answer was no.
With the decision to quit came an avalanche of others: Sublet or move out? (Move.) Sell my stuff or put it in storage? (Half and half.) Persuade my longtime boyfriend to join me or go it alone? (He joined—albeit reluctantly.) The biggest question was where to go. We focused on Asia, because it's more cost-effective than hopping from continent to continent. And the culture, food, language, and landscape change with each border crossing.
Saving up is, of course, the hardest part. And we didn't even have kids or a mortgage to worry about. Nor was there some opulent budgetary goal, but we wanted to travel in a way that wouldn't involve bunking with 23-year-old Aussies or taking the longest, sweatiest modes of transportation. To achieve that in Asia, we decided to ballpark around $75 a day, or $2,500 a month. So whole paychecks moved, untouched, from checking to savings accounts. Every prospective purchase underwent a cost-comparison analysis: Spend $150 on a pretty necklace, or buy a plane ticket from Manila to Bangkok? We set aside additional funds for departure—travel insurance, immunizations, etc.—and for renting a place to live when we return.
When you tell colleagues, they'll be dubious. "People responded to my travel wistfully," says Manuela Hess, 33, an interior designer from Seattle who began her open-ended trip in January. "As if they chose their professionally responsible paths long ago and are bound by that trajectory." My own friends tended to fall into two camps: those who wished they could do the same, and those who believed I was ruining my career. "The evidence is strong that people not only return, but they do so with increased commitment," says Elizabeth Pagano McGuire, co-founder of yoursabbatical.com.
"You want to leave at a midcareer point where you have a good amount of experience and a reputation to fall back on," adds Sarah Lavender Smith, 45, who traded her life in Piedmont, Calif., for 10 months on the road with her husband and two kids. Most ex-career-breakers can market the time off to their advantage, says Jeffrey Jung, author of The Career Break Traveler's Handbook and himself a reentrant to corporate life. "But don't alienate people," he says. "When you return, your network will be your secret weapon in getting that job back."
And don't go if you're going to just agonize about future job prospects. In the past six months, we've bounced around China, Hong Kong, the Philippines, Thailand, Myanmar, India, Sri Lanka, and Singapore. We've got six months ahead of us and enough places to see that I don't even know the full list. So predicting what will happen after I return—if I return—is pointless. But it definitely won't involve sitting in a cubicle, wondering where I could be instead.
Before it's here, it's on the Bloomberg Terminal.
LEARN MORE