A Timeline of Christie Proclaiming Innocence in 'Bridgegate' for 16 Months
The governor has held the line since the scandal emerged.
By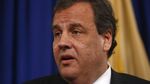 New Jersey Governor Chris Christie has spent 16 months declaring—again and again and again—that he had nothing to do with the forced traffic jams on the George Washington Bridge in 2013 due to lane closures ordered by the Port Authority and traced back to one of his top aides. His former ally David Wildstein, the Port Authority official who ordered the lane closures, is cooperating with federal prosecutors as charges are imminent. Meanwhile, Christie faces a pressing need to put the long "Bridgegate" nightmare behind him if he wants to boost his struggling position in the 2016 contest.
Here's a timeline of Christie's unflinching denials about having prior knowledge of the lane closures that sparked a national outcry, denials that some have doubted but nobody has been able to disprove.
January 9, 2014
"I am embarrassed and humiliated by the conduct of some of the people on my team... I had no knowledge or involvement in this issue, in its planning or it execution, and I am stunned by the abject stupidity that was shown here. Regardless of what the facts ultimately uncover, this was handled in a callous and indifferent way."

—Christie's marathon press conference, acknowledging for the first time that people in his office were involved in the lane closures, apologizing, and announcing he had fired deputy chief of staff Bridget Kelly, who was implicated.
January 31, 2014
"Mr. Wildstein's lawyer confirms what the Governor has said all along—he had absolutely no prior knowledge of the lane closures before they happened and whatever Mr. Wildstein's motivations were for closing them to begin with."
—Statement from Christie's office responding to claims by a lawyer for former official David Wildstein that "evidence exists" that the governor knew about the lane closures (without saying what the evidence was or producing any).
February 3, 2014
"The most important issue is, did I know anything about the plan to close these lanes, did I authorize it, did I know about it, did I approve it, did I have any knowledge of it beforehand. And the answer is still the same: It's unequivocally no."
—Remarks on an "Ask the Governor" segment on New Jersey 101.5 FM radio, dismissing theories that he acted out of political retribution against the mayor of Fort Lee.
March 28, 2014
"Impact running, as a choice? I'm just telling you that it won't. And the fact of the matter is that I had nothing to do with this, as I said from the beginning."
—Comments at a news conference announcing the departure of David Samson, his powerful appointee at the Port Authority, and responding to a question about whether the scandal will affect his 2016 ambitions.
September 18, 2014
"I told the people of New Jersey directly and honestly on January 9th that I had no knowledge of this and no role of any kind in the planning or execution of it... Because what matters most to me is that the people of New Jersey know that I tell them the truth."
—Remarks on NJ 101.5 fm, responding to a report that said federal investigators hadn't uncovered evidence linking him directly to the lane closures.
April 29, 2015
"I don't expect that anything's going to be different than what I said on Jan. 9... But I can't speculate as to what may happen or not happen. We'll see. Whenever anything does occur, we'll react to it. But I know what the truth is, so I'm not the least bit concerned about it."
—Remarks at a town hall in New Brunswick, N.J., responding to news that Wildstein was planning to plead guilty.