Why Elizabeth Warren Supporters Are Not Ready for Bernie Sanders
Progressive advocates admit that presidential candidate Bernie Sanders is just as strong on the issues. But they're still pining for her.
By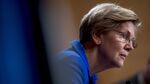 Senator Bernie Sanders of Vermont has been carrying the populist progressive torch in Congress since before Elizabeth Warren landed on the national stage. But an energetic swath of progressive advocates gave his newly minted presidential campaign little more than a lukewarm welcome Thursday before redoubling their efforts to convince the senator from Massachusetts to jump in the race.
"We're excited to see Bernie Sanders join the 2016 Democratic primary," Erica Sagrans, the campaign manager for Ready for Warren, said in a statement. "But we need Senator Elizabeth Warren in the race to make sure we have a Democratic nominee who will lead these fights all the way to the White House."
Charles Chamberlain of Democracy For America, which is also working to draft Warren, offered a similar assessment. 
"This is Elizabeth Warren's moment," Chamberlain said. "She has galvanized progressives and Democrats in ways that no other candidate or elected leader has. So that's why you're seeing this huge amount of support."
There's one problem with that argument, of course. Warren herself has ruled out running—again and again and again and again. 
Sanders, who has served in Congress since 1991, might seem a natural substitute, having fought for the issues that progressives care about—mitigating income inequality, taxing the rich, regulating Wall Street, imposing campaign finance limits—long before they became standard Democratic positions. He unabashedly calls himself a "democratic socialist."
In fact, ask the passionate Warren boosters for a single issue where she's superior to Sanders and they come up empty.
"Y'know, that's a great question," said Chamberlain. He acknowledged that Sanders is "fantastic on so many of these issues."
Adam Green, the co-founder of the Progressive Change Campaign Committee, which has not endorsed in the Democratic primary but is encouraging candidates to adopt "Elizabeth Warren-style" ideas, also struggled to name an issue where Sanders hasn't been equally strong.
"Uh," he paused. "I haven't seen him take a position on debt-free college yet."
Sanders formally came out two weeks ago for making four-year public colleges tuition-free.
MoveOn.org, which is also working to draft Warren, used the Sanders announcement to reiterate its call for her to run. But the group's spokesman declined to answer questions about why the unlikely presidential contender is superior to the candidate who is actually running.
So what gives? It's clearly not about issues. And it's hardly a generational matter—Sanders is 73; Warren is 65. But it's Warren, not Sanders, who has an inexplicable and unique star power with progressive advocates that they have a hard time explaining in concrete terms.
Chamberlain added that his group is a "member-driven organization" and its members said in a November survey they prefer Warren for the presidency by a 20-point margin. Sanders was a distant second; Clinton a close third.
"It speaks to something larger," Green said. "We've had a rising economic populist tide ... and Elizabeth Warren has come to personify that rising economic populist tide. It's nothing against Bernie Sanders. It's not personal."