Why Elizabeth Warren Supporters Are Not Ready for Bernie Sanders
Progressive advocates admit that presidential candidate Bernie Sanders is just as strong on the issues. But they're still pining for her.
By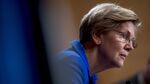 Senator Bernie Sanders of Vermont has been carrying the populist progressive torch in Congress since before Elizabeth Warren landed on the national stage. But an energetic swath of progressive advocates gave his newly minted presidential campaign little more than a lukewarm welcome Thursday before redoubling their efforts to convince the senator from Massachusetts to jump in the race.