Sports Business
Meet the $300,000-a-Pop Stud That's Dominating U.S. Horse Racing
By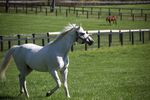 The whole thing really takes no more than a few minutes.
The stallion, a striking ghost-white specimen named Tapit, is escorted into the breeding shed, where a mare awaits in one corner. He's fitted with a leather muzzle — to prevent biting — and then, with some encouragement from the five handlers orchestrating the moment, mounts the mare. After a whinny and a swish of the tail, it's over, and he saunters back to his field in the heart of Kentucky bluegrass country.
Tapit will repeat this routine some 135 times this year.
Each time he does, his owners will collect a fee of $300,000. It is a staggering sum of money. Even after factoring in the typical number of fee cancellations due to failed pregnancies, they will reap some $35 million.
If the thoroughbred breeding industry is back in the U.S. following the collapse triggered by the global financial crisis, then Tapit is the symbol — and more importantly, the DNA — of that rebound. His stud fee is fully double that of any other racehorse in America. And only one stallion, the legendary Storm Cat, has commanded a higher price tag over the past two decades.
The reason: Tapit's offspring can really run.
One of his sons, Frosted, is a top contender in Saturday's Kentucky Derby. Another, Tonalist, took last year's Belmont Stakes. His daughter Untapable, meanwhile, is the reigning female horse of the year. And seemingly every weekend at racetracks across America, young Tapits are wowing crowds with breakout performances.
"Having a great stallion like him is absolutely transformational," said Antony Beck, owner of Gainesway farm in Lexington, Kentucky, where Tapit has stood since leaving the racetrack a decade ago. "He's the most valuable animal in America."
33% Stake

Beck bought into Tapit a decade ago at a price that, in hindsight, looks dirt cheap. He paid $3 million to the owner, Winchell Thoroughbreds LLC, for a 33 percent stake. Today, the farm estimates the horse's total value is about $120 million, meaning that stake is worth $40 million. At age 14, he could keep producing in the breeding shed for another decade or so.
There was little about Tapit's race record that suggested he would be a moneymaking machine at stud.
Yes, he was well-bred (his name, it turns out, is a melding of his parents' names) and, yes, he flashed some signs of brilliance, but he also proved brittle during a short career on the track. His biggest win came in Queens, New York, where he took the Wood Memorial in April 2004. Three weeks later, he staggered home ninth in the Kentucky Derby. He'd only race one more time — finishing ninth yet again — before being retired.
His career stats: three wins in six starts, for a total of $557,000 in purse money.
Keeneland Sales
Several months later, Tapit began his stud career with an initial fee of $15,000. It stayed there at first, then even dipped to $12,500 for a while before his progeny finally started making their way onto the racetrack in 2008.
Before long, they were winning races. Lots of them.
By 2009, his offspring's racetrack earnings placed him 28th on a national ranking of stallions, according to data compiled by the Bloodhorse. He climbed to 12th the next year, then third in 2011 and first in 2014, a position he has maintained over the first four months of this year.
Demand for his foals soared in the sales ring.
At the world's biggest thoroughbred auction — Keeneland Association's September sale of yearlings in Lexington — Tapit's offspring have brought in more money than those of any other stallion for three straight years. At last year's sale, they fetched an average price of over $600,000.
Fee Soars
Broodmare owners — who pay the stallion farm the breeding fee and then own the foal once it's born — began ringing the phone off the hook at Gainesway: Were there any openings available in Tapit's schedule?
The farm drove up the stud fee year after year: $12,500 became $35,000 and then $50,000. The latest increase came last November: a 100 percent bump-up from $150,000.
"The most interesting thing about Tapit is that he started out as a $15,000 stallion," Bill Oppenheim, a pedigree consultant based in Highland Perthshire, Scotland, said in a phone interview. "He wasn't automatically going to be the next big thing."
Money Losers
Acquiring a superstar stallion, of course, isn't easy. For every Tapit, there are hundreds of horses — thousands really — that leave their owners with financial losses year after year. Even those colts that make it to the breeding shed can lose value quickly.
Take Birdstone, one of Tapit's neighbors at Gainesway.
After he produced a Kentucky Derby winner and a Belmont Stakes winner with his first crop of horses in 2009, the farm tripled his stud fee to $30,000. Yet in the six years since, Birdstone has failed to produce a single standout racehorse.
His fee is now down to just $5,000.

On a recent morning at Gainesway, Birdstone was one of the first stallions brought into the breeding shed.
The farm cuts a picturesque bucolic scene.
Finely shaved woodchips cover the barn floor. Sunlight pours through windows in the rafters. Outside, expansive fields of lush green grass stretch into the horizon.
In one corner of the barn, farmhands keep a mare nestled against a padded, standing mat to prevent her from trying to flee as Birdstone approaches.
The staff at Gainesway, like at most horse farms, is protective about its stallions' images. Pictures of them frolicking in the field are fine. Shots of them while in the act are definitely not.
Orchestrated Encounter
Workers are also protective of the animals themselves. The matings are highly orchestrated to avoid injury. These are, after all, multimillion-dollar assets.
"People want to think it's just two horses set free in the field,'' said Rocky Mason, the stallion veterinarian at Gainesway. ''But one bad kick and it can be all over.''
Some 16 days after the mating session, an ultrasound reveals whether the mare is pregnant. If not, she's sent back to the farm to try again. Tapit requires few repeat sessions, a trait that allows the farm to book a full schedule for him.
''That keeps the workload down,'' said Michael Hernon, Gainesway's director of sales. ''If he had to breed those mares two or three times to get them pregnant, that would limit what he could do.''
Breeders looking to book their mares to him in 2016, meanwhile, better brace for another price increase. Hernon's already thinking aloud about such a move -- ''he's clearly in huge demand.''
The big stud is back in America. — with Boris Korby

Before it's here, it's on the Bloomberg Terminal.
LEARN MORE