German Bonds Endure Worst Selloff Since 2011 as Italy Stabilizes
Eshe Nelson and Anchalee Worrachate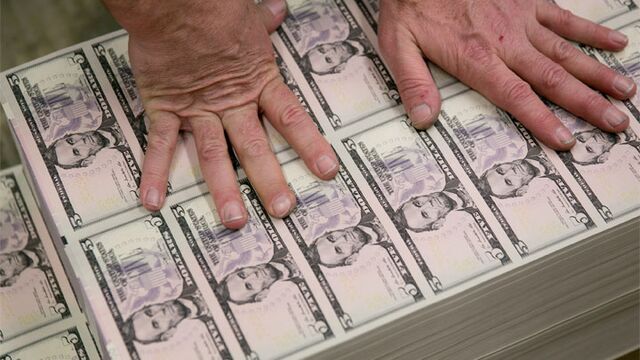 Germany's 10-year bonds suffered their deepest two-day loss in more than three years as traders capitulated on bets the European Central Bank's quantitative-easing plan would drive up prices on the continent's benchmark securities.
The drop all but erased gains in German bund prices since the ECB began buying government debt on March 9. While securities from Finland to France were dragged down in the wake of the German slump, those from Italy and Spain stabilized on Thursday, ending the day little changed.

Signs that traders were rushing to abandon positions amplified the selloff in the region's higher-rated bonds. With 55 billion euros ($62 billion) wiped off the value of euro-area debt on Wednesday alone, strategists were left to debate whether the move spelled the beginning of the end for record-low yields across the region.
"Market positioning on European bonds have reached levels so extreme that some people are getting out as they think it would be hard to push it further from here," said Richard Kelly, head of market strategy at Toronto-Dominion Bank in London. "Perhaps this is an early sign of a return to reflation trade. That said, with the European Central Bank still buying there is a limit as to how far these bonds can fall."
German 10-year bond yields rose more than 20 basis points, or 0.2 percentage point, since Tuesday to 0.37 percent at the 5 p.m. London close, the biggest two-day increase since November 2011. They touched 0.39 percent, the highest the ECB extended asset purchases to include government securities as part of a 1.1 trillion-euro stimulus plan.
Bonds Slide
The price of the 0.5 percent bund due in February 2025 fell 0.785, or 7.85 euros per 1,000-euro face amount, on Thursday, to 101.29.
The two-day slump began after DoubleLine Capital LP's Jeffrey Gundlach said he was considering an amplified bet against short-dated German notes, joining a growing number of money managers expressing dissatisfaction with the unprecedented lows in euro-area yields. It was magnified by 14.75 billion euros of debt sales from Germany, Italy and Portugal and a brightening outlook for euro-area inflation.
Trading was brisk. The volume of bund futures contracts changing hands on the Eurex exchange on Thursday climbed to more than 1.2 million, almost double the average for the year to date and the highest since March 5.
French five-year yields rose four basis points on Thursday to 0.13 percent and touched 0.15 percent, the highest since Jan. 22 when ECB President Mario Draghi announced quantitative easing. Finland's 30-year yield increased seven basis points to 0.86 percent, after a 15 basis-point surge on Wednesday.
'Disjointed With Fundamentals'
"When we actually see the bund yields get to those sort of levels -- the 10 basis points -- and disjointed with fundamentals, investors shouldn't be surprised about a spike in volatility," Bill Street, London-based head of investments for Europe, the Middle East and Africa, at State Street Global Advisors, in a Bloomberg Television interview. "I don't think this triggers a more sustained back up in yields for German bunds or the euro-zone bond market but you have to be wary."
Euro-area consumer prices stagnated in April after falling for four straight months, the European Union's statistics office said on Thursday. The ECB's target for inflation is just under 2 percent.
Italian 10-year bond yields ended Thursday little changed at 1.50 percent, having increased as much as 10 basis points earlier, and rising 13 basis points a day earlier. Spain's 10-year bond yield was unchanged at 1.47 percent.
"Fundamentals are still very positive for fixed income, and investor behavior does not move so quickly," Giles Gale, head of European rates research at RBS in London, said in a note to clients. "The high volumes suggest month-end position squaring that should leave the market cleaner. We have been badly bruised. But we are still bullish."
Before it's here, it's on the Bloomberg Terminal.
LEARN MORE