Australia's Back Door to Going Public
Its exchange needs listings that aren't tied to natural resources
By and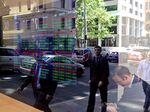 A three-year-old company called 1-Page took an unusual path to the public markets. The San Francisco Web-based service, which helps human resources managers find job candidates, chose to list its stock on Australia's main stock exchange, ASX, instead of on Nasdaq. And rather than go through an initial public offering, the company did a "reverse takeover"—buying a troubled nickel mining company that was already trading on the exchange. While the idea seemed "crazy" at first, says Joanna Weidenmiller, 1-Page's chief executive officer, it's worked out. "The large institutions are looking at us," she says. The stock has jumped about 430 percent since the October 2014 deal.
With Australia's economy slowing, the country is encouraging local and foreign companies to consider entering the equity market by acquiring a publicly traded company. There were 30 such "backdoor listings" in Australia last year, up from 19 the year before. The ASX has talked "with a lot of companies in the U.S.," says Max Cunningham, an ex-Goldman Sachs banker who runs the exchange's listings business. Weidenmiller says she gets calls every day from CEOs of U.S. tech companies asking about Australia.
For a fledgling company, a backdoor listing offers many advantages over an IPO. To go public, companies have to meet an exchange's revenue and profit requirements, get regulatory approvals, hire banks to underwrite the offering, and conduct roadshows to market their stock to investors. Steve Nicols, founder of the Sydney-based Benelong Capital Partners, which specializes in finding shell companies and linking them with investors, says companies from as far away as Kazakhstan and Canada have called looking for potential takeover targets.
The end of the China-fueled resources boom—the price of iron ore has plunged by almost 50 percent in the past 12 months—has left plenty of struggling companies, many of them failed miners in Western Australia, looking for a savior. "A lot of the time, investors are just stuck with shares in a dormant exploration company," says Marcus Ohm, a partner with accounting and advisory firm HLB Mann Judd in Perth. "There can be a new lease of life for these companies."
Eager to reduce the market's reliance on the Australian mining industry, regulators have tried to remove hurdles to backdoor listings. In September the exchange relaxed its longstanding rule requiring companies to have a stock price of at least 20¢. "Brokers consider it a lot easier to raise enough money with the issue price at 2¢ per share as opposed to 20¢," says Chris Rosario, an attorney with Squire Patton Boggs in Perth. "Investors in this market view it as easier for the share price to rise from 2¢ to 20¢ as opposed to rising from 20¢ to $2."
That change demonstrates that the ASX is "allowing a little more flexibility in terms of small caps being able to reinvent themselves," says James Ellingford, a director of Capital Mining, a struggling gold miner being taken over by a U.S and Canadian group specializing in medicinal cannabis and hemp. "There has to be a mechanism by which small companies can reemerge as new businesses."
Even as Australia makes these deals easier, backdoor listings remain notorious for attracting swindlers and shaky companies. Investors lost money when a number of Chinese companies collapsed after listing on U.S. exchanges via reverse mergers in recent years. Australia had an earlier spate of backdoor listings around the turn of the millennium, and some went sour. While regulators are keeping an eye on reverse takeovers, John Price, an executive at the Australian Securities and Investments Commission, says investors need to do their homework. "If you don't understand what you're getting into," he says, "either don't invest, or seek professional advice."
Weidenmiller says that once 1-Page has built up its credibility on the ASX, the company can have a more traditional market debut in New York. "It's easy to do a dual listing," Weidenmiller says. "Or delist and list again on Nasdaq."
The bottom line: There were 30 backdoor listings last year in Australia, many by fledgling overseas tech companies.
Before it's here, it's on the Bloomberg Terminal.
LEARN MORE