Mike Huckabee Drops Another Hint About His Presidential Plans
The former Iowa caucus winner will head back to the state after announcing his presidential intentions.
By and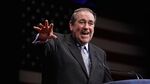 Remember when Mike Huckabee announced that he would be announcing his plans for the presidential campaign on May 5? If that wasn't enough of a hint that the former Arkansas governor is set to hop into the race for the White House, his latest move all but dashes what little suspense remained.