Japan's Abe Emphasizes Reconciliation at World War II Memorial
Toluse Olorunnipa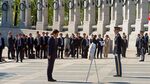 Japanese Prime Minister Shinzo Abe visited Washington's World World II Memorial, a stop meant to emphasize the reconciliation that allowed two former enemies to become close partners in world affairs.
Abe laid a wreath Wednesday at the memorial's Freedom Wall, which has 4,048 gold stars, each representing 100 American military personnel who died during the war seven decades ago. The inscription reads, "Here we mark the price of freedom."
In the years since, the U.S. and Japan have been allied on strategic issues in the Pacific region, where their militaries once squared off in bloody battles. After leaving the memorial, Abe headed to the U.S. Capitol to deliver an address to a joint meeting of Congress, the first Japanese prime minister to do so.
Meeting with President Barack Obama Tuesday at the White House, Abe said his top foreign policy priority was to draw the U.S. and Japan even closer.
"I was able to confirm this strong resolve with President Obama in this milestone year of 70 years after the war," Abe said through an interpreter during a news conference at the White House. "Today, we turned a new page in the history of the U.S.-Japan alliance, which exceeds half a century."
South Korea
Not all the hostilities from that war have cooled. Japan's relationship with China and another U.S. ally -- South Korea -- remains tense over Japan's perceived lack of contrition for its wartime actions, including the sexual slavery of women by its Imperial Army.
South Korean President Park Geun Hye has urged Japan to resolve the issue of so-called comfort women, while Abe has questioned whether such women were forced to serve Japanese troops.
One of those women, Lee Yong Soo, will attend Abe's address to Congress as guest of Democratic Representative Mike Honda of California, according Honda's spokesman Ken Scudder.
Lee said she was 16 years old when she was forced into sexual slavery by the Japanese Imperial Army. Lester Tenney, who was held as a prisoner of war by the Japanese, will also be present at the gallery as Honda's guest, Scudder said.
Lee, now 86, said she made the difficult trip to demand an apology from Abe.
"There's not many of us left and he can wait for us to die out but that won't erase Japan's crimes," Lee, sitting in a wheelchair, told reporters in front of the Capitol.
Abe sidestepped the issue when asked about it at the news conference with Obama.
"I am deeply pained to think about the comfort women who experienced immeasurable pain and suffering as a result of victimization due to human trafficking," he said. "This is a feeling that I share equally with my predecessors."