Baltimore Tries to Move On: 'I Live in This Neighborhood'
The tense but quiet first night of Baltimore's curfew.
By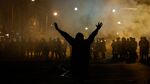 BALTIMORE—An unpredictable, ad hoc collaboration between gang members and police officers tamped down civil unrest in the place where protesters had gathered to mourn the late Freddie Gray. By midnight, two hours after the start of a controversial curfew, a city that had seen days of brawls, looting and possible arson was so quiet that an international swarm of reporters stood aimlessly as armored squads moved slowly to clear a few restive blocks.