Illinois Governor Bruce Rauner Has Met the Enemy and It Is Unions
Tim Jones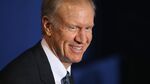 In Bruce Rauner's Illinois, the common villain behind crushing pension debt, municipalities sliding toward bankruptcy and businesses bypassing the state is organized labor.
"Government union bosses" are also the reason that Chicago Public Schools are likely to go bankrupt, the Republican governor said recently. And residents of the city, which Rauner says faces greater financial peril than Illinois, can blame them if property taxes skyrocket, he says.
In a little more than 100 days as chief executive of the nation's lowest-rated state, Rauner has begun an election-worthy campaign tying much of Illinois's financial misery to the actions of organized labor. If union power isn't rolled back in a state where one in seven workers is a member, Illinois is doomed, he says.
"We're slowly, slowly starting to become southeast Michigan," Rauner, 59, a former private-equity executive, said April 15 in a not-so-veiled reference to Detroit's record $18 billion bankruptcy.
While his strategy echoes Wisconsin Governor Scott Walker's confrontations with public employees, Rauner has gone further than the likely Republican presidential candidate. He wants to let Illinois municipalities declare bankruptcy, clearing the way to overturn collective-bargaining contracts.
The former chairman of Chicago-based GTCR LLC also is pushing local right-to-work zones that would let workers decide whether they want to pay union dues.
In February, he tried to use an executive order to prevent the state's largest employee union from collecting fees from workers who aren't members. The money is "a critical cog in the corrupt bargain that is crushing taxpayers," Rauner said Feb. 9. A coalition of 26 unions sued in March to block the order.
This month, the governor took a swipe at Illinois Supreme Court justices considering a pension-restructuring bill, saying they're part of a "corrupt" judicial system influenced by the same forces that created the financial mess.
"Our government unions are very, very powerful," Rauner said in a speech Monday to the Great Lakes Economic Forum in Chicago. "We're 93 percent unionized -- the most unionized state government in America."
"Very high cost, very much featherbedding and overstaffing," he said.
Sound and Fury
Rauner's rhetorical fury has had limited impact. An Illinois House of Representatives committee has yet to vote on his municipal-bankruptcy proposal. Lawmakers and the governor are working out details to close a $1.6 billion shortfall in the budget that ends June 30. Illinois faces $111 billion in unfunded pension liabilities and a backlog of more than $7 billion in unpaid bills.
"He just goes out and smacks people around," said David Yepsen, director of the Paul Simon Public Policy Institute at Southern Illinois University, which released a poll March 20 showing the governor's approval rating is 36.5 percent. "I hope it's all part of a strategy, because it doesn't make sense to just go out and pop off like that."
Rauner says changes are needed to restore Illinois's competitive position. Neighboring Indiana, Wisconsin, Iowa and Michigan restricted unions and enacted changes to workers compensation, unemployment insurance and taxes. They are outperforming Illinois, he said.
"If we have a level playing field, even close to a level playing field, Illinois will thrive," Rauner said.
Jim Edgar, a Republican who was governor from 1991 to 1999 and was a member of Rauner's transition team, said he doesn't agree with Rauner's tactic and said "the jury's still out" on whether it will work.
"It's a different approach than I would've taken, but times are different, and I've got to believe he personally believes it," Edgar said. "I'm not sure that if he gets all the things he wants from labor that that solves your budgetary problem. It's a lot bigger than that."
Next year's spending plan is short a projected $6.2 billion. And if the Illinois Supreme Court strikes down a 2013 pension overhaul, the budget crater will deepen, opening the possibility of further downgrades to credit that's four grades above junk.
Rauner is blunt when discussing Chicago, whose mayor, Democrat Rahm Emanuel, is a friend and former business associate. The city is saddled with $20 billion in unfunded pension obligations.
"Chicago is in deep, deep yogurt," Rauner told an April 15 gathering of the National Federation of Independent Business in Springfield.
The governor's approach has drawn criticism from labor leaders. Chicago Teachers Union President Karen Lewis calls Rauner "Scott Walker on Steroids." Roberta Lynch, executive director of AFSCME Council 31, which represents about 35,000 state employees, calls it "hatred" of unions.
"Here's a guy who made $61 million last year," Lynch said, referring to Rauner's income reported in 2013 tax filings. "And he has a deep-seated revulsion that average working people make decent salaries."
Strengthening Communities
The governor casts his program instead as pro-citizen.
It "empowers local voters and communities to decide if they should be open or closed shop through employee empowerment zones to better compete with employment-flexible states," he said in an e-mailed statement Monday.
Political reality in Illinois restricts Rauner's ability to follow the script of Walker, whom he mentions as one of his role models.
The Wisconsin governor enjoys the support of a Republican General Assembly; Rauner must deal with veto-proof Democratic majorities. And unlike Walker, he's a rookie elected official, still learning the sometimes byzantine ways of legislating.
His "local empowerment zone" proposal, which would let voters in counties or municipalities decide whether workers can be required to join a union, has been met with opposition from Illinois Attorney General Lisa Madigan, a Democrat. She says it is illegal.
The empowerment zones have divided local governments, which the governor has urged to endorse his proposals. Twenty have passed resolutions supporting them, seven defeated it and a score tabled the measure.
The northern Illinois village of Dixon, the boyhood home of President Ronald Reagan, approved its own resolution April 20 on a 4-to-1 vote. It wasn't what Rauner was looking for.
"The real agenda of the right to work concept," it read, "is to undercut wages and benefits."