Baltimore Smolders as Residents Rebuke Looters and Obama, Too
A night in Baltimore, before the curfew.
By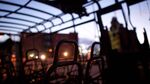 The police car and van were parked head to tail, still smoldering hours after they'd been torched by rioters. They were bracketed by the clean, humming cars of gawkers and reporters, who had watched on TV as the intersection of North and Fulton was overtaken, the corner CVS looted then burned. By midnight, there was really nothing to see but wreckage and a colonnade of police officers, standing silently to block the streets that wound north and east. The whole world was watching, and nothing was on.