Baltimore Smolders as Residents Rebuke Looters and Obama, Too
A night in Baltimore, before the curfew.
By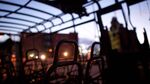 The police car and van were parked head to tail, still smoldering hours after they'd been torched by rioters. They were bracketed by the clean, humming cars of gawkers and reporters, who had watched on TV as the intersection of North and Fulton was overtaken, the corner CVS looted then burned. By midnight, there was really nothing to see but wreckage and a colonnade of police officers, standing silently to block the streets that wound north and east. The whole world was watching, and nothing was on.
The people who remained were polite but dazed, unsure of how long to stay or what to do. All over the city it was like this—one block on fire, the next block pacified. Just around the corner from the burnt CVS, the lights were still on in some brightly decorated brownstones. Pierre Thomas, a 37-year old nurse who worked at the nearby VA hospital, wandered around looking for someone who could make use of his med kit. Alena Maze, a 29-year old mathematician, looked on silently until a radio reporter asked her if she was scared or bothered by what she saw.

"The looting itself doesn't bother me," she said.
Thomas, standing a few feet of way, overheard her and interjected. "The looting bothers me!" he said. "It takes away from the cause."
"It distracts, but it also brings national attention," said Maze. "Yesterday, someone on the Internet asked me: Who's Freddie Gray? And now everybody knows who Freddie Gray is."
She was talking herself into a theory, that the case of the 25-year old man whose spine was snapped while in police custody would have been forgotten if people didn't take the streets. Thomas wasn't convinced.
"What happened when there was national attention to Ferguson?" said Thomas. "That didn't fix the situation."
But Baltimore is not Ferguson. When the media swarmed that small city to cover the aftermath of a killing, they discovered mostly black neighborhoods run by white politicians, policed by mostly white cops. Baltimore, which is roughly 63 percent black, is governed by a black mayor—even if no one in the city has anything good to say about Stephanie Rawlings-Blake. The police commissioner is black. The police force is mostly black. The state came within a few points of electing a black governor in 2014. (The man who defeated him, Governor Larry Hogan, benefitted when turnout in the city of Baltimore fell by half from 2012.)
Monday's riots were also the first day on the job for Loretta Lynch, the first black female attorney general of the United States. Democrats had shamed Republicans for delaying her confirmation vote by months, telling them a "civil rights milestone" was being blocked by politics. 
Hours later, and about forty miles up the road, some of the black community's hard-won gains were being set ablaze. TV choppers filmed the looting of Mondawin Mall. Decades earlier, it had been the blighted site of an abandoned Sears. In 2008 it had been renovated as a potential hub of activity. Late Monday evening, it was surrounded by police who were attempting to stave off further looting. At the same time, looting was spreading from west Baltimore to Monument street east of Johns Hopkins University, along a stretch of businesses that some community leaders tried, but failed, to defend.
Since 2008, the year the nation elected its first black president, the gap between haves and have-nots in Baltimore has increased by more than 5 percent, as measured by the Gini coefficient, a gauge of income inequality. That compares to 2.5 percent for the country at large, ranking Baltimore thirteenth in the nation in terms of income inequality.
Sade Parker, a 29-year-old hair salon owner, put her finger on that issue as she watched firefighters try to douse another convenience store, clearing out three brownstones. She took a photo, tweeted it with the hashtag #PrayforBaltimore, and wheeled around to ask why the city's black mayor and the first black president were letting this happen.

"The president should not have been sitting and eating and having fun while our country is at war," said Parker. "He needs to step in. He needs to implement education. He needs to get the people who are in office, misusing their authority, out of office. It's not just cops—it's the whole government. The government is f--ked up. They're sitting their in their nice-a-- houses. Our mayor gets on television and calls our own kids thugs."
As firefighters scrambled around the crowd, and as reporters angled for shots of the fire, Parker pointed to the projects behind her and asked what political leaders really expected from black people. They were put in "cages." They were cursed with bad credit. They had little if any inherited wealth; if they wanted to change their leaders, too many of them had been stricken from the voter rolls for felonies.
"This is not about Freddie Gray," said Parker. "This is about each of us who live the same life that he did, who did nothing to deserve this. My grandmother marched. My mother marched. Our ancestors marched for peace, and they got nothing."
Jason Rodriguez, a founder of Baltimore Cop Watch, struggled to make sense of the destruction as a dozen black men and women watched the police close off the street. "They had to hit Downtown Locker Room?" he asked. "They ain't like the Koreans or the Chinese. They're the one store that helps. You could have took out something else, but you took out Downtown Locker Room, which does school drives, does concerts, and all kinds of s--t. They'll probably just end up closing the store."
Rodriguez moved from conversation to conversation, from younger people talking about retribution on the police to an older woman, Nadine Carter, wiping away tears as she talked about the 1968 riots that followed the death of Martin Luther King. "You look at the people who sacrificed to make this easier for our children," she said. She couldn't finish the thought. "I'm just tired of seeing young people die."
Nearby, Carter's son—who only gave his nickname, "Fat Boy," was talking about the times he'd been pulled over by the police. "They made my boy pull his pants down!" he said, "and he hadn't done nothing." Another man, who said people needed to "get strapped" and fight the police, would only identify himself as the nephew of Tyrone West. In 2013, West had died after a struggle with police, and a year's investigation blamed the death on a heart condition. 
That was just another reason why the would-be peacemakers were angry that the conversation had moved from Freddie Gray to looting. "They had it!" said Rodriguez, despondent. "You know, they had it! I went to the protests. I kept telling everybody—you got this. Stay in Camden Yards and be still. I'm trying to get the governor to put some money in here, and now I gotta go back, I gotta face these people, and I gotta explain why people looted."
From the corner, it was obvious that police were moving off of Monument Street and onto some new location. The rumor spread from people leaning out of car windows: There was a protest on Greenmount and North. A drive up to that intersection proved the rumor wrong. A Rite Aid was being looted from a back door, people spilling out and running into the night with armfuls of medicine or soda. Just a few blocks away was the city's quiet train station. Not far in the other direction was an intersection blocked by two cars that had been set ablaze. On either side of the street, looters were roaming corner stores, and screaming for people to move on if their cars slowed or if they took photos.

Just blocks away from New Shiloh Baptist Church, where the day had started with Freddie Gray's funeral. The streets around the church remained peaceful, lit by TV trucks and a neon sign that alternated between two messages:
WE MOURN THE DEATH OF FREDDIE GRAY
BLACK LIVES MATTER
At the end of the block stood George Robertson, the 46-year old owner of JustGo's convenience store. He'd run it himself for 25 years. "People know me and know the business," he said, "so we haven't been hit." He did not display one of the hastily made "black owned" signs that had appeared over other stores, but he felt safer than the owners of the store across the street.
"They're from Yemen," he explained. "One of their places already went up."
Robertson and his friend Andre Smith, 46 intended to stay the night in the store. Both of them saw the violence as a response to out-of-control, unaccountable police. "They taking drug money, they getting away with it," said Smith. "It's gonna get worse. This is just the beginning. They said that all three of the gangs are going to merge together and fight the police officers. If that happens—boy, it's gonna be war."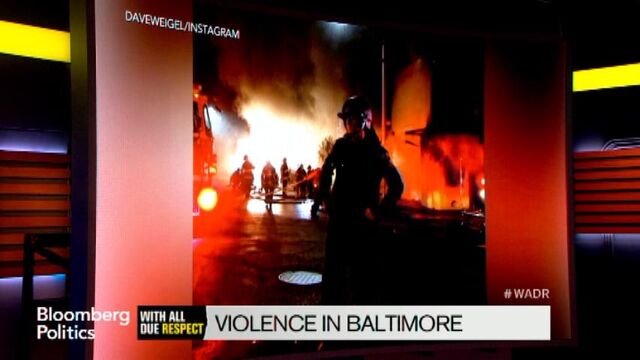 The two men spoke with calm and detachment as they pondered the worst. As the night dragged on, wandering the streets and stoops on their last night before an indefinite period of curfew, Baltimoreans kept finding themselves in conversation or on camera, asked to sum up why their city had exploded. 
Shortly before 2 a.m., the Baltimore Fire Department told reporters that it had run out of trucks. 
Wei Lu contributed reporting.