Snapchat Gets Into the Political News Business
The extremely popular app hires a CNN correspondent as its head of news just as the presidential election starts popping with livestreams everywhere.
By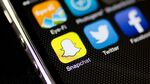 Dan Pfeiffer may be the earth's only czar whose legacy lies not in scepter, but in selfie stick. In his years as senior adviser to President Barack Obama, and before that as White House communications director, or "czar," Pfeiffer pushed and prodded the administration to employ the latest digital technologies—which helps explain why the comedian GloZell Green handed Obama green glitter lipstick in a YouTube interview, and why the president sported shades and took his own picture for a series of BuzzFeed GIFs. Pfeiffer left the White House in early March, and, not two weeks later, published an article on Medium predicting the future not of politics but of social media.