Kerry Visits a Piece of Iran on Manhattan's Upper East Side
Kambiz Foroohar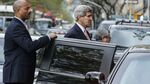 U.S. Secretary of State John Kerry met his counterpart Javad Zarif on territory under Iran's jurisdiction and did it on Manhattan's Upper East Side.
Kerry held an hour-long session Monday with Zarif, Iran's foreign minister, at the residence of the Islamic Republic's ambassador to the United Nations.
The U.S. and Iran broke diplomatic relations in 1979 after a group of Iranian students took over the U.S. embassy in Tehran, holding 52 American diplomats hostage for 444 days. The encounter was the first between Kerry and Zarif since world powers and Iran reached a nuclear framework agreement on April 2.
The location may get some attention from U.S. critics of the proposed deal with Iran, just as hard-liners in Iran criticized Zarif for taking what they took to be a too-friendly walk with Kerry along the Rhone River during talks in Geneva in January.
Although the ambassador's home is considered under Iran's jurisdiction and enjoys certain protections under international agreements, like all UN diplomatic residences, it's within the territorial control of the United States, a State Department official said.
It's understood by U.S. courts and internationally that embassy or foreign mission grounds aren't considered foreign soil, according to the official, who spoke on condition of anonymity to discuss the diplomatic intricacies of the occasion.
The session was expected "to be focused on the nuclear issue," Jeff Rathke, a State Department spokesman, told reporters in Washington on Monday in advance of the session.
After the meeting, Zarif said he received reassurance that if a final nuclear agreement is reached with world powers, the Obama administration would remain committed to its implementation, according to Iran's Press TV. Earlier this week, Zarif said he aimed to seek details from American officials on how they planned to carry out a possible deal given U.S. domestic opposition.
The secretary also likely raised "the fate of American citizens who remain in Iran, either in prison or missing," Rathke said.
Those include Jason Rezaian, a Washington Post reporter who has been in detention for more than nine months and faces trial.