The Campaign of Hillary and Mrs. Clinton
Downplaying her global celebrity, the Democrat burnishes her down-home cred.
By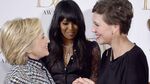 Hillary Clinton's presidential campaign is all about showing voters who she really is.
The challenge is that there is more than one distinct identity bound up in Hillary Clinton.
There's Hillary, the proud new grandmother. She suggests road-tripping to Iowa instead of flying. She stops for lunch at Chipotle. She spends hours asking the people she meets for their views about what is and isn't working in the economy.
This is who Clinton really is, her advisers and friends say; America just doesn't know her yet, but they hope this campaign will be voters' chance to get acquainted.
Then there's the woman more familiar to America. Call her "Mrs. Clinton." She's the wife of a former president and a former secretary of state who is trailed by Secret Service. She's a trailblazing lawyer who once defended her professional career by saying, dismissively, "I suppose I could have stayed home and baked cookies and had teas." She's a polarizing public figure who can't go anywhere without attracting cheering—and jeering—crowds. And now she's shrugging off scrutiny of the tangled web of her finances, family foundation, and work at the State Department as just the latest instance of being targeted by Republicans determined to take her down.
As hard as the Clinton team is working to keep the spotlight on Hillary, the first two weeks of the campaign showed how difficult that will be.
Campaigning as Hillary with all the trappings of being Mrs. Clinton means that her team must carefully plan each step she takes, especially when it's in front of the media. Otherwise, Mrs. Clinton overtakes Hillary.
Her Scooby van, as she calls it, attracted attention—much of it negative or mocking—in part because it's emblematic of those tensions. Yes, it's a van that she's using to travel 1,000 miles from New York to Iowa, just like plenty of other Americans. But it's a customized Chevrolet Express 1500 that, if she's in it, can be driven only by a Secret Service agent, and accompanied by an entourage of at least two more SUVs. When she wrapped up her two-day tours in both states, she flew home—once to her home in Chappaqua, N.Y., and the other to her home in Washington—while the Secret Service drove the van back to New York.
While most presidential candidates just starting their primary campaigns are eager for media attention, the Clinton team is doing all it can to cut down on the number of eyes on its candidate. During Clinton's first forays onto the campaign trail, reporters had access to only a few of the meet-and-greets she did each day, and were limited to a small pool of about a dozen people. In New Hampshire, three meetings Clinton attended were open only to a single reporter who e-mailed quotes and descriptions of the event to others.
Pre-screened 'everyday people'
Her first morning of campaigning, in Le Claire, Iowa, set the tone. Clinton's team drove in a few Democrats to join her for coffee—or, in her case, masala chai. A small pool of journalists watched and took photos before being ushered out through a side entrance. Once outside, they milled about, tweeting photos of the Scooby van, and resisting staffers' urgings to get on the road if they wanted to make it to her next stop, a roundtable 90 miles away in Monticello.
There, and at the three roundtables she's done since, the format has been the same. Clinton starts with an opening statement about her goals for the early stages of her campaign and her overarching views on the economy, education, and campaign finance before spending about 45 minutes asking half a dozen pre-screened "everyday people" about the pressures they feel in their lives.
There weren't any memorable moments. But there weren't any mishaps, either.
And while the national press hoped to push Mrs. Clinton on the allegations leveled against her and her husband in Clinton Cash, a forthcoming book that alleges the Clinton State Department offered quid pro quos for donations to the Clinton Foundation, Hillary was getting lead-story and front-page attention from the local press. The local media of course also covered the controversies, too, but gave plenty of attention to supporters' enthusiasm about her trip.
Clinton happily took voters' questions, but answered only a few shouted queries from the press over the course of her first two weeks of campaigning. In the first situation, she gets to embrace being Hillary, while the second forces her to step back into the familiar role of Mrs. Clinton.
"We will be subjected to all kinds of distractions and attacks, and I'm ready for that ... I know that that comes with the territory," she said on Monday at a furniture factory in Keene, New Hampshire, responding to shouted questions about Clinton Cash. She took a follow-up, about her e-mail use while at the State Department, and dismissed that too as a "distraction."
Then, shifting back to her Hillary role before walking out of the room: "I'm going to talk about what's happening in the lives of the people of New Hampshire and across America."
Three days later, she was in New York, where dozens of journalists watched her draw standing ovations at Tina Brown's Women in the World Summit at Lincoln Center (ironically enough in the David H. Koch Theater). She then rode crosstown in her Scooby van to the DVF Awards at the United Nations. There, she posed for photos with Naomi Campbell and Maggie Gyllenhaal, and sat beside Gloria Steinem and Diane von Furstenberg.
As much as the Clinton team has said that it is determined to reset its relations with reporters, it's more interested—for obvious reasons—in reaching out to voters. It also was clear that organizing is a work in progress, as the state-based press and advance staffs struggled with some logistics and, in New Hampshire, gave out press credentials in the form of Sharpie-scribbled initials on the back of journalists' hands.
Journalistic footrace
With the campaign actively trying to avoid making national news and limiting press access to just a few events a day, journalists looked elsewhere to get unstaged tidbits.
In Iowa, it was a much-mocked footrace behind Clinton's motorcade as she arrived at a community college in Monticello. The reporters actually allowed to cover Clinton's speech were inside the building, but a mass of others sent to cover her anyway and desperate for scraps ran as Scooby rolled by.
A few reporters leaving Des Moines for New York joked about changing their flights to possibly end up on the same flight as the candidate, suspecting she might be taking the 6:50 a.m. direct on Delta. Instead, she spent much of the next day in Council Bluffs before flying home from Omaha.
The close watch got even more microscopic this week in New Hampshire.
The Boston Globe staked out Dilant-Hopkins Airport in Keene on Monday morning, just in case Clinton flew there. On Tuesday afternoon, some journalists staked out the statehouse in Concord after hearing Clinton utter the word "capitol" while shaking hands with people who had attended her roundtable that morning.
She wound up at New Hampshire Democratic Party headquarters in Concord that afternoon and, keeping watch over Clinton's mini-motorcade there, local news site NH1 caught State Representative Chip Rice backing his BMW into the van on Tuesday, and posted video of the incident on Wednesday.
The Globe quickly caught up with the lawmaker, who said the whole incident was "a little embarrassing" but, despite the mishap and the hour he spent meeting with Clinton behind closed doors, hadn't decided whether to support her.
"We'll just have to see how the campaign plays out," he told the paper. 
Rather than trying to anticipate Clinton's movements, Daily Mail Online chose to trail her small motorcade across the Granite State. On Monday, U.S. politics editor David Martosko and a photographer traveling with him, Jeffrey Hastings, caught the Scooby van going 92 miles per hour in a 65 mph zone on Interstate Highway 89. The Drudge Report linked to the story within minutes.
On Tuesday, Martosko followed Clinton from Concord, New Hampshire, to Boston's Logan International Airport, where she, along with aides including Huma Abedin, boarded a flight to Washington. He bought a ticket for the same flight and, once on the ground, shouted questions at Clinton about Benghazi, which she ignored. A Wall Street Journal social media editor happened to be on the flight, too, and tweeted that Clinton was sitting in the first row of first class, something that is much more Mrs. Clinton than it is Hillary.