Republicans Make Their Pitches to Social Conservatives in Iowa, Emphasizing Marriage
Carly Fiorina and Bobby Jindal are well-received in the key nominating state.
By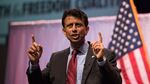 WAUKEE, Iowa—Carly Fiorina and Bobby Jindal are not the two names most often discussed in the still-forming 2016 Republican presidential race, yet they received some of the strongest applause and laughter from social conservatives gathered Saturday evening in the state that votes first.
They were among nine declared or likely candidates who pitched themselves to more than 1,000 social conservatives during a five-hour session in an evangelical church in suburban Des Moines at an event sponsored by the Iowa Faith & Freedom Coalition. The speakers criticized Democratic frontrunner Hillary Clinton and President Barack Obama while mostly avoiding direct engagement with each other.
With the 2016 Iowa caucuses less than 10 months away, Saturday's gathering offered a chance for some of the activists most likely to vote to compare and contrast the messages and styles of the would-be candidates. In 2012, 57 percent of Republicans who caucused described themselves in entrance polls as born again or evangelical Christians.
Wisconsin Governor Scott Walker, who was the final speaker of the night, read from Jesus Calling, a devotional that he said is part of his daily reading.
Like many of the night's speakers, he pushed for marriage rights to be reserved for heterosexual couples. "Marriage is a decision that should be defined by our state governments, not at the federal level," he said. "In Wisconsin and other places across the country, marriage is defined as between one man and one woman."
Jindal, the Louisiana governor, may have helped his standing with a speech that received one of the strongest reactions of the night. He focused on recent events in Indiana, where Republican lawmakers modified new religious-freedom laws after critics said they could be used to discriminate against gays.
"We saw corporate America team up with the radical left," Jindal said, drawing applause. 
"They might as well save their breath because corporate America is not going to bully the governor of Louisiana," he said. "The real discrimination that is being faced today are Christians—individuals, families, and business owners—that shouldn't have to choose between operating their business and following their conscience, their traditional views, and their religious beliefs."
Jindal added: "The United States of America did not create religious liberty. Religious liberty created the United States of America."

Fiorina, the former Hewlett-Packard CEO, mocked Clinton's campaign announcement rollout by pointing to an Iowa convenience store chain.
"I will take Casey's pizza in a car to Chipotle takeout anytime," she said to applause. "I prefer to order and eat without my sunglasses on."
It was one of several lines that won the businesswoman extended applause and laughter. On a serious note, Fiorina pointed to her 2010 run for U.S. Senate in California, where she said she ran as a "proud, pro-life conservative" in a state known for its liberal populace. "You don't do that in California unless you really mean it," she said.
Fiorina said Republicans should look for the person they think is the most electable. "Only a conservative can unify this party," she said. "And we do not have to change our beliefs and our convictions to reach independents."
Relaying, she said, how a reporter recently asked her whether hormonal changes should disqualify a woman from holding the Oval Office, Fiorina spun the question in reverse. "Ladies, this is a quiz: can you think of a single instance in which a man's judgment was clouded by hormones, including in the Oval Office?" she asked, drawing loud laughter and applause.
Senator Marco Rubio of Florida, who drew the first speaking slot, won a polite reception at the event as he made his first swing through Iowa since announcing his presidential bid. Rubio is viewed as having challenges in the state because of his support for a comprehensive immigration bill in 2013 that included a path to citizenship. 
Outlining his family's immigrant history, Rubio talked about the importance of values for a strong society. "You cannot have strong people without strong values," he said. 
"We should never have any policies that stand in the way of families," he said. "We should never have any policies that stand in the way of marriage."
Rubio won his strongest applause when he talked about marriage between a man and woman. "Marriage as an institution existed before even government itself," he said to strong applause. "The institution of marriage, as one man and one woman, existed before our laws existed."
Rubio didn't mention same-sex marriage, but said the "ideal" situation for a child is to be raised by a mother and father.
Also on Bloomberg Politics: The Definitive Marco Rubio Scouting Report, by Mark Halperin and John Heilemann
Senator Rand Paul of Kentucky, who had caught flak for his absence from similar social conservative events in Iowa in August and January, spoke without notes and won a warm reception.
He hit hard on abortion, an issue where some social conservatives have questioned his commitment. "I'm tired of us retreating on this issue and I'm going to push back," Paul said.
The senator called on his party to nominate someone "dead-set on changing Washington" and said Republican must fight for the entire Constitution and Bill of Rights. "When we show compassion for the least among us, we are going to be a party that rocks and rolls and dominates in Iowa and across America again and I want to be a part of that," he said. 
Also on Bloomberg Politics: The Definitive Rand Paul Scouting Report, by Mark Halperin and John Heilemann
Texas Senator Ted Cruz, who this week introduced bills aimed at protecting state gay-marriage bans from a possible Supreme Court ruling, credited Representative Steve King of Iowa for introducing a similar bill in the House.
"Every one of us is called to lift our nation in prayer, but we are also called to stand and fight," said Cruz. "We need leaders who will stand unapologetically in defense of the Judeo-Christian values America was built on."
After recounting cases of small businesses being attacked for refusing to cater gay weddings, Cruz encouraged conservatives to remember that they represented majority opinion. "There is a liberal fascism that is dedicated to going after believing Christians who follow the biblical tenets on marriage," Cruz said.
Former Texas Governor Rick Perry, seeking political redemption in an expected second White House bid, sold a message of second chances. Speaking without notes as he crisscrossed the stage, Perry cited the biblical figures of Paul, Moses, and David as he said he is "somebody that got a second chance" after earlier life challenges.
"America is a country of second chances—sometimes third and fourth ones," he said. "I happen to think America is ready for a second chance right now."
The former governor mocked two Democratic presidents in his closing remarks. "We lived through Jimmy Carter. We'll make it through the Obama years, I promise you," he said.
Former Senator Rick Santorum of Pennsylvania said Republicans need to do more to show they're "on the side" of American workers. "We need to look at our messaging," he said. "We need to have an increase in the minimum wage."
He won the 2012 caucuses with the support of social conservatives, beating a much-better-funded Mitt Romney by 34 votes.
He also pointed to Clinton and said his party needs to nominate someone with foreign policy credentials, echoing remarks Rubio had made earlier in the day to editors and reporters at the Des Moines Register.
"We're going to be going up against a secretary of state," he said, adding that she's "someone who is knowledgeable," even if Republicans disagree with her actions.
—With assistance from David Weigel in Washington.
CORRECTION: In the seventh paragraph, Louisiana Governor Bobby Jindal should have been quoted as saying, "We saw corporate America team up with the radical left."