Donald Trump Says He Has No Hard Feelings About Obama's WHCD Roast
The president does a good job with the jokes, says his frequent critic.
By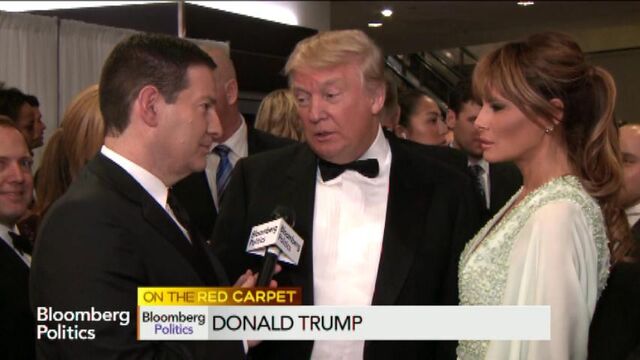 Donald Trump says he "loved" when President Barack Obama savaged him in a 2011 White House Correspondents' Dinner speech.
"The time I got sort of roasted, I loved that evening, but the next day I woke up, and the papers all said I hated it," the real estate mogul and Obama critic told Bloomberg's Mark Halperin on the event's red carpet in Washington on Saturday.
"Frankly he does a good job with it," Trump added of the commander-in-chief's zingers.
Also on Bloomberg Politics: Photos of the 2015 White House Correspondents' Dinner Red Carpet
At the 2011 dinner, Obama ribbed Trump for his support of those who doubted whether the president was born in the United States.
"No one is happier, no one is prouder to put this birth certificate matter to rest than the Donald," Obama said, in a routine shaped by director Judd Apatow. "That's because he can finally get back to focusing on the issues that matter, like, did we fake the moon landing? What really happened in Roswell? And where are Biggie and Tupac?" The camera occasionally panned to Trump, who was starring back at the president and not laughing.