No Kohl's Discount Shopping Talk for Scott Walker at Iowa Stop
After newspaper stories about breaks he gave the major retailer, the Wisconsin governor eschews talk of bargain hunting.
By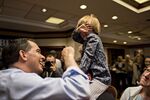 CEDAR RAPIDS, Iowa—There was no talk Friday afternoon of bargain shopping at Kohl's for likely Republican presidential candidate Scott Walker as he made his first stop on a weekend swing through Iowa.
The Wisconsin governor, speaking to about 200 people in a hotel conference room in Cedar Rapids, didn't include any reference to what's become a hallmark of his speeches along the prospective campaign trail.
The change followed stories this week in Bloomberg and the Des Moines Register that outlined how Walker's administration awarded a state incentive package worth as much as $62.5 million to Kohl's in 2012, when there was a slight chance the company would move its national headquarters out of the state. The credits arrived despite Walker's limited-government philosophy.
For months, at almost every stop, Walker has talked about his mastery of the national retailer's multiple coupons and other discounts to get merchandise almost for free. The tale, which regularly wins him laughter and applause, has been a way for Walker to sell himself as a frugal steward of tax dollars, and as a common man who "didn't inherit fame and fortune," a jab at Republican Jeb Bush and Democrat Hillary Clinton.
Walker could add the anecdote back in at any time. But at least at the first of four public appearances this weekend in Iowa, where the presidential nomination voting will start in less than 10 months, it was gone.
Immigration accordion?
Speaking to reporters later, Walker tried to clarify his views on immigration, which have become muddled in recent weeks.  He said he thinks immigration policy should be altered, depending on what's going on with the U.S. economy.
"When times were very tough, and we saw high unemployment and low labor participation rates, it doesn't make a whole lot of sense to flood the marketplace with a whole bunch of new workers," he said. "Conversely, as the economy improves, more people are working, labor participation rates go up, unemployment goes down, it makes sense to have a wider interest."
On the issue of bird flu, which is wreaking havoc on the poultry industry in Iowa and Wisconsin, Walker said his own administration has taken "aggressive action." There "certainly could be" a role for the federal government in dealing with the outbreak, he said. "As we assess the aftermath of that, certainly looking at the role of the federal government or any other agency for that matter, would be part of that assessment," he said.
In his speech, Walker pledged to come back to Iowa often, should he get in the race and win his party's nomination, as he made a case for his geographical advantages.
Big Ten primary
"The path to for a Republican to win the presidency comes through the Midwest. It comes from Iowa and Wisconsin and Michigan and Ohio and we're even going to include Pennsylvania because they're part of the Big Ten," he said. "We need to have a powerful leader at the top of that ticket who can not only carry the state of Iowa for the presidential election, but who make sure we energize our grassroots on the doors and on the phones and in all of our activities."
Walker is among the likely and declared Republican presidential candidates descending on Iowa this weekend for an event Saturday sponsored by the Iowa Faith & Freedom Coalition.
Besides Walker, others in attendance will include senators Rand Paul of Kentucky, Ted Cruz of Texas and Marco Rubio of Florida, as well as Governor Bobby Jindal of Louisiana, former governors Rick Perry of Texas and Mike Huckabee of Arkansas, former Senator Rick Santorum of Pennsylvania and former business executive Carly Fiorina.
After Walker finished his speech, a half dozen young workers carrying clipboards with the logo of his political committee, Our American Revival, fanned out across the room, gathering names, addresses and e-mails for potential supporters.
Joyce Dierks, a retired avionics worker from Marion, Iowa, was one of those who signed the sheet. "I picked him as my candidate a couple years ago," she said. "I want a governor and someone who does what he says he will."