Bill Clinton Leaves For-Profit College Position
As his wife begins criticizing the industry, the former president ends a five-year term as honorary chancellor of Laureate International Universities.
By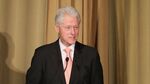 Former President Bill Clinton's role at a for-profit higher education company will end Friday, just as his wife has begun questioning some of the industry's practices from the campaign trail.
Since 2010, Clinton has been honorary chancellor of Laureate International Universities, part of Laureate Education Inc. the world's largest chain of for-profit colleges. His departure has nothing to do with the campaign, the company and the former president's office said, telling Bloomberg that he had agreed to a five-year term in the position.
"Laureate students represent the next generation of leadership. I have seen a commitment to quality and leadership throughout the Laureate network, and I have enjoyed being a part of it," Clinton said in a statement announcing his departure.
During his time in the role, Clinton visited 19 Laureate campuses and spoke to tens of thousands of its students. 
While the company is regarded as one of the better actors in the industry, it is part of a sector that has faced scrutiny for aggressive recruiting practices and for leaving students with unmanageable debt loads. The Obama administration has imposed new policies aimed at tightening oversight of the industry, and Hillary Clinton has indicated that she would be tough on for-profit colleges if elected president.
The end of the former president's role–which came with an undisclosed paycheck–comes as the Clintons face questions about possible conflicts of interest involving their financial interests, their family foundation and Hillary Clinton's official work at the State Department.
Clinton's departure also comes as Laureate prepares for an initial public offering. The company, which was publicly traded until a 2007 buyout led by private equity firm KKR & Co., is interviewing banks for a $1 billion IPO, Bloomberg reported Thursday.
Headquartered in Baltimore, Laureate has focused its expansion abroad, largely in emerging markets and says it has nearly 1 million students enrolled. Of its 84 institutions, 30 are in South America, and eight are in the United States. Former Mexican President Ernesto Zedillo is set to become the company's presidential counselor, following the model set by Clinton set in his similar role.
Aligning herself with the current administration and most congressional Democrats, Hillary Clinton suggested last week that she hopes to see the industry more tightly regulated. "Some of the for-profit schools, some of the scandals that have arisen in these places where they take all this money and put all these young people and their families into debt," she said while speaking at a community college in Monticello, Iowa.
Detailed policy proposals from the candidate are still months away, but Clinton left no question that she wants to continue the Obama team's tough approach. "We have to sort this out and we have to take on those interests that want to keep the system the way it is because it generates a lot of money and a lot of interest payments for them, and instead get back to basics," she said. 
Clinton's view of the industry fits with her efforts to be seen by voters as a populist defender of the working class. Senator Elizabeth Warren, a Democrat from Massachusetts,has been outspoken about her concerns, blasting the federal government for "currently subsidizing a for-profit industry that is ripping off young people." 
Laureate hired Bill Clinton just as the Obama administration was working on its first try at controversial regulations on "gainful employment" and as then-Senate HELP Committee Chairman Tom Harkin (D-Iowa) launched a series of hearings scrutinizing the industry, which relies heavily on federal student aid grants and loans for revenue.
The company also plays up the relationship on its website; a photo of Clinton speaking earlier this month at a new campus in Panama is prominently featured its homepage and a link to a page called "President Bill Clinton" sits just below its mission statement under an "about" tab.
Another page details the company's relationship with the Clinton Global Initiative and links to photos of students with Clinton and attending CGI events.
The company has declined to say how much it has paid the former presidents. Hillary Clinton's financial disclosure forms offer little insight; her 2012 submission says only that her husband received nonemployee compensation of more than $1,000 from the company that year. The Clinton Foundation's donor disclosures show the company cumulatively gave between $1 million and $5 million through 2014. 
Hillary Clinton's direct ties to the company are more limited. Laureate CEO Douglas Becker gave $4,600 to her 2008 presidential campaign and $2,000 to her 2000 Senate campaign. The company was also one of the founding donors to the 100,000 Strong Foundation, a nonprofit dedicated to expanding Mandarin language study in the United States that Hillary Clinton launched just before leaving the State Department in 2013. Later that year, she attended Laureate investor KKR's annual meeting in southern California and faced questions from firm founder Henry Kravis.
In a reminder of Washington's tangled allegiances, the Center for American Progress, founded by Clinton campaign chairman John Podesta, has long advocated for tougher oversight of the industry, while the Podesta Group, the firm he founded with his brother Tony, has for years represented the industry's largest trade group and some individual companies.